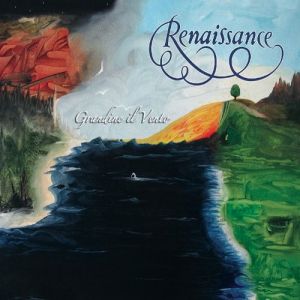 Over the years, friends and fans of the progressive rock band Renaissance (@MysticAndMuse) likely offered many explanations as to why their favorite band labored in the shadow of more popular bands.  Weak distribution? Publicity-starved genre? No flashy Stratocaster-wielding head-banging soloist?
Maybe it was just bad timing. Forty years ago Renaissance played at Carnegie Hall. Based on a standout, well-attended Renaissance performance at the Landmark Thursday night and two equally well-attended subsequent shows across the Hudson at NJPAC, the timing for the band's kickoff event for its 2015 tour may once again be approaching optimal.
Decades have passed since most of the commercially successful bands associated with prog rock (most lamentably Emerson Lake and Palmer) produced their germinal work. Fans of this genre also listened to King Crimson, Moody Blues, Genesis, Pink Floyd, Camel, Yes (see Rick Wakeman's Six Wives of Henry VIII), The Nice, and even Deep Purple's Concerto for Group and Orchestra. Lesser known early acts included The Flock, which featured violinist Jerry Goodman.
Not too long ago, a Renaissance-style sound could also be heard in projects like Globus (@GlobusMusic), but there are few bands whose sound can easily be compared to this one.
Long Live the Upper Register
A Renaissance performance is (above all, literally) a vocal performance, due to the range and power of singer Annie Haslam. While her Facebook page features her original painting as much as her singing, British invader Ms. Haslam (now a Pennsylvania resident, we are told) assertively describes the group as a "symphonic classical rock band." Those who follow the genre likely hear Haslam's influence in Simone Simons (Epica), Marcela Bovio (Stream of Passion), Tarja Turunun (Within Temptation), Floor Jansen (After Forever, Nightwish) and Mariangela Demurtas (Tristania), Liv Kristine (Leave's Eyes) – to name a few.
The evening's first "notes" were struck by an impatient Landmark audience, but despite the recent onset of illness, once Annie Haslam's soaring notes took center stage, comparisons with other voices fell by the wayside.
After one especially high, long-held note, Ms. Haslam quipped, "Were you singing along with that?" We were not. Nor had we similarly nailed it.
Art Songs
The evening featured several songs from the band's 2012 Kickstarter-funded Symphony of Light, as well as classics which several in the audience were nothing short of desperate to hear: "Mother Russia," "Northern Lights," and "Song for All Seasons."
Haslam expressed gratitude to the Kickstarter contributors in the audience — a music industry trend that could well affect other Landmark acts.
The encore, "Ashes are Burning," took a stirring, satisfying arc that featured instrumental solos and still more vocal gymnastics from a seemingly tireless Annie Haslam.
The Ensemble
The Landmark's performance featured a dual keyboardist lineup anchored by Rave Tesar, who was also the primary producer for "Symphony of Light" (originally "Grandine il Vento").  The group's classical influence was signaled by Tesar's use of a conductor-style 4/4 count-off. Tesar was Konducting from his Kurzweil KC99, but adding varied keyboard and synth voicing was Tom Brislin (@TomBrislin) — who truly cut loose with a Stratocaster-imitating solo late in the performance. Acoustic guitars (including an Ovation 12-string) were added by Mark Lambert. Bassist Leo Traversa reinforced the low end with a five-string electric, especially on "Sounds of the Sea," though he did occasionally permit glimpses of his fusion specialization to shine through.  Percussion was supplied by Frank Pagano, including a discreet Ravel "Bolero" quotation in "Modern Russia."
The timeline for Renaissance has a rich rock history, and it began that way. The original Renaissance lineup included Yardbirds co-founder / vocalist Keith Relf (who might still be with the band had he not died prematurely in 1976), as well as wife Jane Relf, the Yardbirds' Jim McCarty, and John Wetton (Asia, King Crimson, Uriah Heep).
Whither a Sub-Genre
After the genre's breakthrough years, symphonic prog rock inspired metal bands both popular and obscure: Epica, Stream of Passion, Kamelot and Muse come to mind. The sub-genre may well have influenced specific songs, such as "Lacrymosa" by Evanescence, which excerpts Mozart's Requiem.
The subgenre represented by this band's music is a special one:  no rock guitar, no repeated sixteenth note goth metal runs, no relying on volume alone for musical effect. There are more chord changes than in most pop music, and vocal line skips can be wide and outside the comfort zone for most singers. Annie Haslam-anchored Renaissance songs typically strive for the lyrical. They are nearer to Thomas Tallis than to the orchestral reach of classic ELP.
What then of those renaissance-era influences, such as John Dowland (featured on Sting's Songs from the Labryrinth) or Palestrina? Those influences in Renaissance the band, especially what is thought to be the dance music of that era in music history, are closer to the Richie Blackmore / Candice Night project, Blackmore's Night, than to classical adaptations as might be tackled by the Kronos Quartet.
Landmark Connections
Drummer Frank Pagano also performs with Darlene Love (last Darlene Love Landmark appearance review), due to return to Landmark for its December holiday show.  Keyboardist Tom Brislin has played with Yes (Yes front man Jon Anderson performed at Landmark for the first time in 2014).
Another Renaissance keyboardist, Jason Hart (@JasonMHart) did not perform on this evening, but has performed with Duncan Sheik (last Landmark appearance review).
Always the Renaissance
The sub-genre, or whatever historians decide to call it, will likely survive, especially when powered by a top flight vocalist of Ms. Haslam's caliber.
And that was just how a smattering of audience members remembered it: they were among a few who heard Renaissance play at Carnegie Hall in 1975. Sung high and letting the notes longer long in the hall. Just how the late Renaissance collaborator Michael Dunford would have wanted it.
It is always the Renaissance,
some of us bold and foolish,
some of us pious and bookish,
some of us mulish, raffish, some
of us lacking polish. It is new,
always, no matter what it ways
above the doorway, cracked by
the usual irony; it's new anyway
. . .
from "Renaissance" by Kay Ryan
Concert photos by Stephen Sandick Photography.