Cover your eyes. Two fellow Aussies braved the searing heat of the sun that is the guitar-wielding Tommy Emmanuel and lived to tell the tale.
As this review was being prepared, many Long Islanders were making eclipse party preparations. A few days from now (August 21), eclipse mania will be just a memory. The same won't be true of Tommy Emmanuel. The guitarist's orbit, while reminiscent of a solar eclipse crossing across the nation — given the streaking path of the artist's touring hyper-schedule – offers a more enduring, rediscoverable pleasure.
Last year, this critic cited the blazing, amazing Tommy Emmanuel as one of the performers you must see before you die. True, the admonishment had all the trappings of exaggeration and hyperbole. See him again, a more modest judge would say, and the Emmanuel shock and awe will have worn off.
A year later, thanks to some savvy programming by Executive Director Laura Mogul and the folks at Landmark, another viewing became possible. Unfortunately for the sake of modesty and temperate prose, the aforementioned Emmanuel blazing and amazing continued unabated in the summer of 2017. For readers hoping not to discover more praise heaped upon an already much-loved, easy-to-love performer – well, disappointment shall be their fate.
Proficiency as Liberation
First, a bit of musical physics. Just how the aggressive Emmanuel touring regimen serves as to strengthen his already virtuoso left hand chord-clamping and right hand tonal projection is a mystery of astronomic proportions.  Perhaps the lighter lyric load, career phase and sheer effervescence facilitate focused hotel room practice?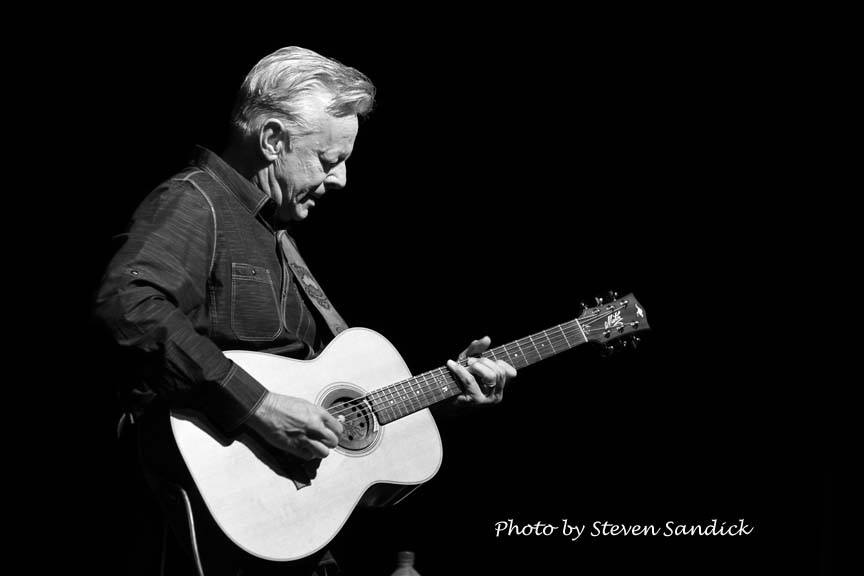 Some principles of physics are unfairly masked from both theory and experiment.
Remembering the genesis of his 1993 wedding anniversary song, Emmanuel revealed that he had written most of the song in his head on a plane flight, then finished it in the back of a taxi.
Perhaps proficiency eventually liberates.
As if to prove the theory to the Port audience, a showman emerged slyly from beneath the guitarist's cape. He threw off a capo mid-song and continued the song without missing a beat. His performance of the popular original "Tall Fiddler" somehow topped previously untapped tempi. In one song, he reeled off several series of sixteenth note runs with just his left hand while pointing to it in feigned amazement with the other. Later, he reversed the trick, pointing with equal surprise at a right hand's solo dexterity.
This bit of brujo and brio put the spotlight on Emmanuel's melodic mastery. But just when the audience settled in to recallibrating the guitar excellence scale, he launched into "Mombasa," an extended guitar/mic/percussion piece that brought forth everything from giggles to jaw-dropping TMJ. There was no part of that guitar that did not give up something for that song.
True, YouTube fans can get a sense of the guitarist's powder keg from live show video. But missing from that is the thrill of the Jeanne Rimsky Theater's full-range JBL PA and those steel string guitar pickups played to perfection. Hear it in his foot-tapping "Nine Pound Hammer," "Guitar Boogie" tunes, in a melancholy downshift to "Angelina," "Rachel's Lullaby," Billy Joel's "And So It Goes" or a harpist's understanding of the Beatles Classic "Michelle."
Despite the spectacle, speed and shimmer of an Emmanuel show, it's the man's humility that shines through. Removing oneself from the picture, if only for an instant, is the lesson of an eclipse.
Gauntlet-Runner Times Two: Rick Price and Jack Jones
The idea of joining this dynamo onstage would seem to entail a pride-crushing force-feeding of humble pie, yet Mr. Emmanuel found two musicians willing to walk that gauntlet.
First to enter this daunting ring of fire was Rick Price, who grew up near Brisbane and offered a heartfelt tribute to his father's work building bridges.
Next to tempt fate was Jack Jones (born Irwin Thomas Wittridge), born in NYC but partly raised in Australia. Jones, past singer/guitarist with Southern Sons ("Heart in Danger").
When the three combined to offer a version of the Doobie Brothers "Taking it to the Streets," the result was one of the evening's highlights.
It is possible that few in this audience knew of either Price or Jones. Both artists have amply vetted Wikipedia pages, which suggests they are well known in Emmanuel's native Australia, and probably best known to US-based ex-pats. Yet both Price and Jones are experienced, emotionally genuine performers in the mold of Tommy Emmanuel – certainly willing to test his kinetic firepower — Though in this era of superpower braggadocio avoiding a one-on-one battle of the bands against Emmanuel might be the better part of valor.
Play, Playability and Art
Somewhere in public discourse about music and musicianship, playability achieved equal standing with other aspects of the craft. Perhaps this can be attributed to the broadened world of amateur musicians, but surely members of the Esterházy court were equally jealous of Joseph Haydn's skill as harpsichordist, vocalist and composer. Likewise, today's iPhone-scribbling bards may not compare favorably to the 7,400 dactylic hexameters penned by Lucretius ("On the Nature of Things").
It is partly due to the wildly dominant worldwide popularity of the guitar that a Tommy Emmanuel stands out. There are thousands, even millions of aspiring guitar greats. Each encounters the instrument's stubborn resistance with unique results: note selection is mostly a one-handed affair; strings buzz if pressure is insufficient; some passages are best played with a pick, others require very different finger-picking techniques. As with most skills, what is easy at a slow speed becomes an entirely different proposition when played prestissimo. (Information Technology folks know this as the Big Data 3V — Volume, Velocity and Variety — complexity  challenge).
Emmanuel understands that technical mastery is not enough. A single note can soar above the rest, its vibrato literally wrestled out of the neck of a wooden box, buoyed by just the right tide of fast runs, harmonics, arpeggios – and rests. Whether Emmanuel the guitarist is shred wizard by nature or nurture, Emmanuel the artist is learned.
Landmark's Next
Next up at the Landmark is the American Dance Theatre of Long Island's "Summer Celebration of Dance" on August 13 (2017). The Roots Rock series for this season begins with Matthew Sweet on September 23.
Poetry Echo
It's autumn
Which might be tent-scented or plank-scented
Their lands and goods, their budgets and gastronomy quicken
You want to enter into the humility of limitations
Coupled with exquisite excess
You walk in the green park at twilight
You read Lucretius to take yourself towards death, through streets and markets
In a discontinuous laboratory towards foreignness
You bring his prosody into your mouth
When you hear the sound of paper
from "The Present/" by Lisa Robertson
Video
See an informal performance of "The Tall Fiddler" for Guitar Player magazine. Or a shimmering version of "Somewhere Over the Rainbow." 
Event Metadata
Artists
Headline
Tommy Emmanuel
Birthday
1955-05-31
Opening or Co-Headline
Rick Price, Jack Jones
Venue
Landmark on Main Street @LandmarkOnMain
Sponsors
Landmark on Main Street Partners in Performing Arts for 2016-2017 season: Town of North Hempstead, Peter and Jeri Dejana Family Foundation, Peter and Dorette Forman Charitable Foundation, NYU Winthrop University Hospital, Harding Real Estate, Hicks Nurseries, Capell Barnett Matalong & Shoenfeld LLP, and the New York State Council of the Arts
Time
2017-08-04
Image Credits
Summary
Event
​
Tommy Emmanuel Performance
Location
​
Landmark on Main Street

,

Port Washington

,

USA

-

11050
Starting on
Ending on
Tommy Emmanuel returned to the Landmark somehow faster, sweeter and humble as ever – this time with two fellow Aussies. DarkViolin reviews.