Rickie Lee Jones: A Troubadour Brings her Explorer's Pen back to Landmark
When the evening's last song's last note rang out it was in the range of an orchestra's triangle. That high note was "high" in several respects: it reflected an artist's highest aspirations. It reflected the full range of sentiment, from the secrets buried in chatter to the deliberate evocation of a mature songwriter. It reflected the high notes of accompanists challenged to match wits with a savvy lyricist.
It was all part of the 2017 return of Rickie Lee Jones to Landmark, where she first appeared in 2009.
In her 2000 poem, "The Secret Language of Trees," Rickie Lee Jones @RickieLeeJones speaks of "deafening skies that can be mapped and measured." More than many songwriters, Jones demonstrated that she can move beyond the literal.
Beyond the Coffeehouse
There's an irony here. The much-loved, much-played 1979 classic "Chuck E.'s In Love" has a real-life referent, a certain Mr. Chuck E. Weiss. The song, which at the time propelled Jones' debut album to a soaring 2 million copies and a Best New Artist award, moved the accessibility needle further in the direction of "Satisfaction" and "All Shook Up." ( — That is, with the exception of the song's idiomatic mention of "P.I.P.").
Not that anyone generally objects. When the familiar song made its way into Jones' set list, the Landmark audience clearly reveled in its stroll down memory lane. "Chuck E's in Love" casual rhythm and coffeehouse banter was a kind of ear candy – most likely some form of taffy.
As would prove to be the case with many later Jones tunes, the message is devilishly sincere.
But where has the singer gone since then? After seventeen albums, there's been plenty of "inspired sorta jazz," touring and lyric-writing. In 2003, the New York Times critic Jon Pareles summarized her style:
Soul and jazz, folk and blues vamps mingled behind her high, girlish voice while she glided through her lyrics, slurring and syncopating with a wayward assurance that was anything but naïve.
That same year, the Guardian's Simon Hattenstone offered an even better description of the singer's voice:
Her voice could be so languid that the words lapped into each other until they stopped making sense. And she could do anything with that voice – she crooned and whispered, bayed like a dog and impersonated roaring traffic.
 Over the years, Jones has had more overtly polemical moments, as well as spiritual ones (The Sermon on Exposition Boulevard).
The evening's sample from the Rickie Lee Jones canon included "Last Chance Texaco," the funky "Road Kill," "Blinded by the Hunt," "Circle in the Sand," "Must be Love," "Deep Space" and more.
Of these, Ms. Jones opined that "Feet on the Ground" was among her best, and a particular delight to perform. Director Gail Harvey was so taken with the album from which "Feet" was taken that she created a feature length documentary on the 2015 genesis of "The Other Side of Desire." The film is likely worth watching to hear reactions from Rosanna Arquette, David Crosby, as well as Jones herself and the previously mentioned Mr. Weiss. More than that, though, worth seeing to learn the planes on which a Jones geometry would inscribe desire.
In her Rolling Stones tribute to the Steely Dan's late Walter Becker, Jones shows her affection for the lesser known but wonderful early Steely Dan, "Bodhisattva" and "My Old School." She
. . . loved the innuendo, the humor, the sting. The genius was as much in the part we filled in. . . That was where the sticky stuff of memory made their music a part of our own personal history. I knew about hiding behind the oleanders; heck, I grew up in Arizona. It wasn't the specific line; it was the sorrow and fury of the melody.
These are all lines that could be written about Jones' own work.
As with "Chuck E.," a Rickie Lee Jones performance gently force-feeds nutrients encased in a folk rock shell. What is to be learned from that performance is not always pleasant. Loss and dissociation combine with the ephemeral, perhaps not unlike the peripatetic Jones (Chicago, Phoenix, Kansas City, Los Angeles, Ojai, Tacoma, Los Angeles, Paris – and, lately, New Orleans).
One day we're Sal in "Weasel and the White Boys Cool" (1979) and the next " . . in an empty bar and there is no room for me" ("Infinity" from The Other Side of Desire 2015).
Your dreams are like marbles
In the pocket of a little boy
And they whisper when you hold them
Like a beautiful girl ("Deep Space" from The Magazine 1984).
Supporting Insinuation
Rounding out the trio were two top notch musicians, vibraphonist Mike Dillon @BoneloafMike and guitarist Cliff Hines @CliffHines. Dillon provided a full complement of percussion, but was especially virtuosic on vibe. Hines, sometimes using an Octaver to pull his guitar into bass range, supplied a rich range of chordal and improvised phrasing. The two provided an essential richness and depth without which the Jones lyrics could not achieve the desired insight and insinuation.
They understood, somehow, that the vocalist they were supporting was prone to the occasional slur and slide, and that their consonants would come in handy when a Jones vowel was swallowed in a moment of bluesy reverie.
Poetry Echo
For I have known them all already, known them all:
Have known the evenings, mornings, afternoons,
I have measured out my life with coffee spoons;
I know the voices dying with a dying fall
Beneath the music from a farther room.
So how should I presume?  from "The Long Song of J. Alred Prufrock" by T.S. Eliot
Video
Landmark Reviews, Connections, Appearances
Jones last appeared at Landmark in 2009.
Callout
Rickie Lee Jones on Steely Dan:
They brought an education and precision to a conversation taking place in the late Sixties of mostly long drum solos and jams. They brought jazz solos to rock, they made being funny in lyrics cool, and they made being cool more important than being handsome. They were the first college band. That's for sure. And I am nostalgic today for that feeling of all the life being before us, and not behind. All things possible, and not relinquishing to inevitability.
Artist Remembrances
"I like words. Words are places, rooms, distant airs, thin and tropical. They make us feel and imagine we are more than our bodies.'  Salon interview, 2000.
Trivia
What other singer songwriter who has appeared at Landmark recently toured with Ms. Jones?
Event Metadata
Artists
Headline
Rickie Lee Jones @RickieLeeJones Facebook
Birthday
November 8
Backing Musicians
Mike Dillon vibraphonist @BoneloafMike  Facebook
Venue
Landmark on Main Street @LandmarkOnMain
Sponsors
Landmark on Main Street Partners in Performing Arts for 2016-2017 season: Town of North Hempstead, Peter and Jeri Dejana Family Foundation, Peter and Dorette Forman Charitable Foundation, NYU Winthrop Hospital, Harding Real Estate, Capell Barnett Matalon & Schoenfeld LLP
Time
2017-10-26
Image Credits
Keywords
Rickie Lee Jones, Mike Dillon, Cliff Hines, vocalist, songwriter. music reviews, live music, Long Island music, Port Washington NY, folk rock
Recommended Reviews
This is not a review, but Jones' 2017 tribute to Walter Beck in Rolling Stone. "Two homely guys who write with a fortitude that no else processed. None of this emotional crap. they were all business. Which led to sophistication."
Answer to Trivia Question
Madeline Peyroux, reviewed in 2015.
Summary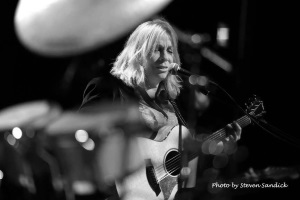 Article Name
Rickie Lee Jones 'Mapped and Measured' into Melisma and Melody
Description
DarkViolin reviews a live Landmark performance by Rickie Lee Jones. Jones appeared with vibraphonist Mike Dillon and guitarist Cliff Hines.
Author