"Piano Battle" Pits Paul Cibis & Andreas Kern vs. the Paradoxes of Classical Music: A DarkViolin Review
It was a two-ring circus. It was an exhibition of top flight musicianship of the highest order. It was an entertaining mashup of both.
And like an atom-smashing particle accelerator, the results from Piano Battle fly out as cultural fragments that, LHC-like, exposed raw building blocks of Western Europe's most iconic instrument and its repertoire.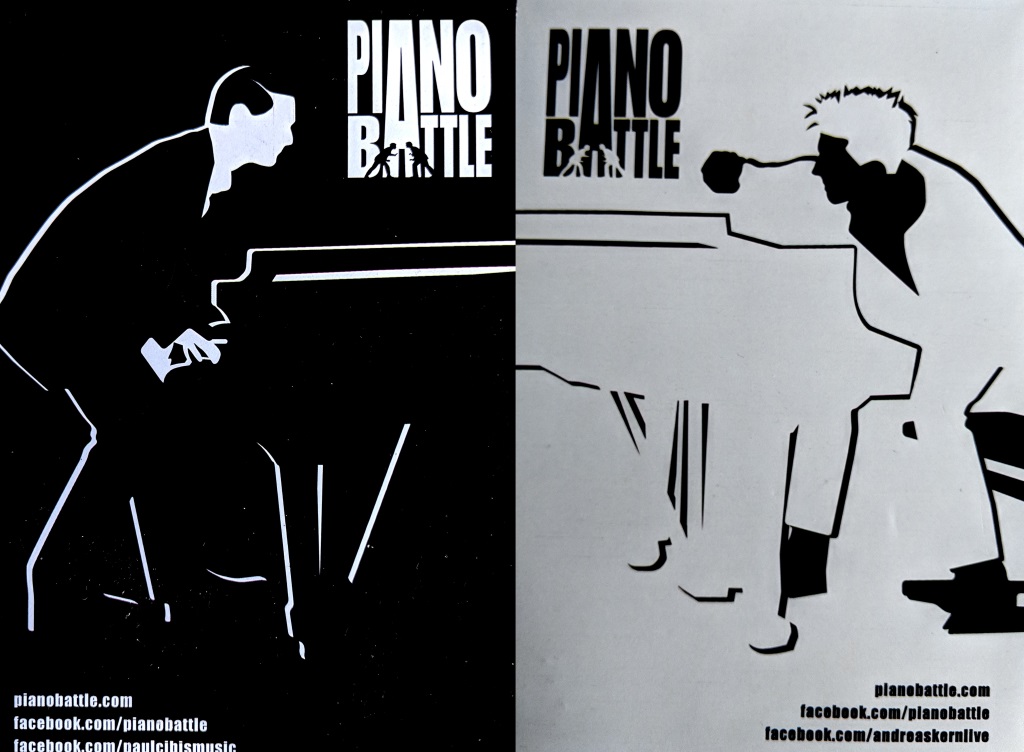 Artist Adversaries
The adversarial foundation of battling pianists – at least until autonomous pianos are deployed – isn't far from the truth. Winning top prize in a competition is a widely accepted path to a coveted career as concert pianist. Browse YouTube and you'll find seemingly unending Wunderkind videos on display. Many of these represent milestones in young careers in which passing up the competition is an unquestioned necessity.
In this particular battle, the music is somehow Olympian, rising above the mercantile fray of its popular cousins and the petty preoccupations of contest and flair.
The protagonists in Piano Battle, Andreas Kern and Paul Cibis, may or may not have been on this collision course earlier in their careers, but they've transformed their aggressions into a humorous exhibition of talent and the high (difficult) end of the Western piano repertoire. The two accept – even amplify – the competitive challenge, and this is the frame of the Piano Battle game.
Battle Plans
The two perform a weapons check by trading phrases from the overly familiar Tchaikovsky Piano Concerto #1.  Then it's off to Liszt vs. Scriabin, Schubert vs. Debussy ("Clair de Lune").  This is the show's principal parlor trick, which the two top flight pianists exploited to the delight of the Port Washington audience. Audience participation, grand piano-moving and cheesy joking aside, it's entertaining.
Whether delivered in this lighthearted framework or Carnegie Hall, the piano pieces chosen remind an audience of the rich trove from which piano literature is chosen. Even in their oft-abbreviated format, snips from the "Moonlight Sonata" and "Pictures at an Exhibition" are memes mashed up into the culture well before that expression came into use.
Kern and Cibis depart from this format when they trade phrases from Beethoven's f minor (four flats for you part-time players) Appassionata without dropping a beat – not even a sixteenth note.
They also offered original compositions, including one written by Kern for a friend, and a fascinating arpeggio-rich sketch written by Kai-nan Huang for Cibis.
Amazing?  Sure, there's the playing blindfolded, and with hands reversed and upside down, and the instrument slapped silly on its underside. All very amazing, but no more so than the proficiency required to play these classic monuments to the Western canon.
Classical Landmark Strut
The evening was a rare strut of classical music on the Landmark stage, a venue known to leave classical hosting to the nearby Port Washington Library. The Landmark's size is a sweet spot for regional suburban classical performances, at least for high profile artists.
Above the Fray
The show ends with serious remarks about serious music from Kern. A winner is declared based on an audience vote tally, and the evening ends with an audience-pleasing but curious white flag waved in the direction of pop music (Don McLean's American Pie).
The instrumentalists behind Piano Battle are far too proficient to inspire the amateur pianists to revisit neglected home ivories. But the two slim, virile six-foot-two virtuosi engaged in this pitched [sic] battle do not overshadow the instrument's still-astonishing repertoire. In this particular battle, the music is somehow Olympian, rising above the mercantile fray of its popular cousins and the petty preoccupations of contest and flair.
Poetry Echo
. . . When you come at last to the real theme,
strict, inexorable, and bleak,
you must play it slow and sad,
with melancholy dignity, or you miss
all its grim wisdom.
In three pages, it says, the universe collapses,
and you—still only halfway home.
from "J. S. Bach: F# Minor Toccata" by Bill Holm
Time
2019-04-13
Sponsors
Landmark on Main Street Partners in Performing Arts for 2018-2019 season: Town of North Hempstead, Peter and Jeri Dejana Family Foundation, Peter and Dorette Forman Charitable Foundation, NYU Winthrop Hospital, Harding Real Estate, Unitarian Universalist Congregation at Shelter Rock, New York State Council of the Arts, Ruskin Moscou Faltischek, P.C.
Socialization
Twitter
Landmark on Main Street @LandmarkonMain
Piano Battle https://twitter.com/pianobattleshow
Facebook
https://www.facebook.com/pianobattle/
https://facebook.com/paulcibismusic
https://facebook.com/andreaskernlive
Instagram
https://www.instagram.com/pianobattle/
URLs
Patch
Summary
Event
​
Piano Battle at Landmark on Main St | Port Washington NY
Location
​
Landmark on Main St

,

Port Washington

,

NY

-

11050
Starting on
Ending on
Piano Battle performs for the first time at Landmark