Kathy Mattea and Two Thirds Goat Heat Up Landmark Stage
It happened to be Grammy night when Kathy Mattea returned to Landmark (see "Kathy Mattea: Long-lost Daughter") after a difficult journey by car to perform at parts further north (Natick, Storrs).  A Grammy winner in 1991 for Best Country Vocal Performance and again in 1994 for Best Southern, Country or Bluegrass Gospel Album (as well as six Grammy nominations), Ms. Mattea was not disinterested in the Los Angeles affair, but such concerns would not interfere with this evening's performance.
The songwriter, whose album Coal topped the US Bluegrass Album chart in 2008 and was nominated for a Grammy, is known for her environmental activism as well as her accessible, humility-laced style. After all, her early years were spent in West Virginia. Understandably, some in the audience expected a politically charged evening, but that wasn't the Mattea plan. Perhaps in deference to her diverse audience — which includes many across Appalachia struck by the one-two punch of economic devastation and the effects of mountaintop coal mining — she had a different agenda.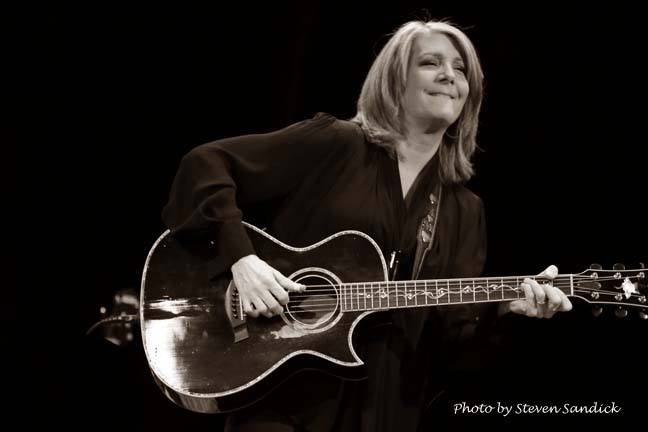 Instead Mattea would explain how she had worked to strengthen her voice against advancing time "by taking my voice out to dinner." She would speak of how the onset of Alzheimer's freed her mother to sing for the first time. And Mattea would fret [sic] over whether she could pull off her part in Cooley's inventive "Butter Fingers."  (She did.)
Slimmed down (compared to her previous ensemble in this venue) to accompaniment by longtime (1990) guitarist Bill Cooley, Mattea successfully fought off a snow-induced cold. With Cooley doing the steering, the two launched into a vigorous cover of Basie's "My Man's Gone Now," and then a sea shanty by Scotsman Dougie MacLean.
Cooley offered his version of the Irish folk song "She Moved Through the Fair" (covered in '68 by Fairport Convention as "Our Wedding Day"). Mattea responded with her recollection of the third of June – "that sleep, dusty Delta day" —  with a nuanced and moving rendition of "Ode to Billie Joe" every bit as compelling as the original.
The evening also included the hemi-demi "455 Rocket," the somber "Agate Hill" ("Lose your crippled body's ties") her best-known "Eighteen Wheels and a Dozen Roses"  and other songs from Mattea's prodigious 17-album output.
Ready for the Storm
Mattea and Dougie MacLean collaborated on MacLean's "Ready for the Storm" some time ago.  When Mattea and Cooley performed it again this evening, these lines stood out:
"Give me mercy for my dreams
'Cos every confrontation seems
To tell me what it really means
to be this lonely sailor."
What did she mean? That we are each sailors doomed to confront what we have created?
Later in the coming week, it would be 65. It was only last month, on January 12, to be exact, that a 120-year record was broken by a 65 degree breakout in NYC. Meanwhile, an extended drought in southern California was interrupted by what the Washington Post called an "historic storm," and national news headlines were dominated by an eroded spillway at California's Oroville Dam.
Extremes of weather are a predicted outcome from climate change.
They don't write commemorative folk songs about non-disasters.  There's John Stewart's "Mother Country" about the 1889 Johnstown Flood that killed 2,209 people, but little more.
On a past trip to Port Washington, Kathy Mattea was able to visit with the sons of former local resident and "Mother of Folk" Jean Ritchie. True to that memory, Mattea reprised Ritchie's anthemic "In the Cool of the Day."
Without saying so, Mattea made clear the connection between our stewardship for the planet and song:
The earth is a garden, the garden of my Lord
And he walks in his garden
In the cool of the day.
In this, the Anthropocene period, we need Kathy Mattea. She reminds us that unless we are vigilant, "the cool of the day" will be a distant memory. For which the Lord, speaking for all living things on the planet, will hold us to account.
Two Thirds Goat
The opening act was Two Thirds Goat (well, two-fifths of them, anyway). The band was represented by Annalyse McCoy and Ryan Dunn. McCoy – yes, descended from those McCoys – was originally from eastern Kentucky, which makes clear the aesthetic kinship felt with Kathy Mattea. The duet offered a mix of vocals, guitar and mandolin so instantly pleasing that the songs seemed recalled, not new.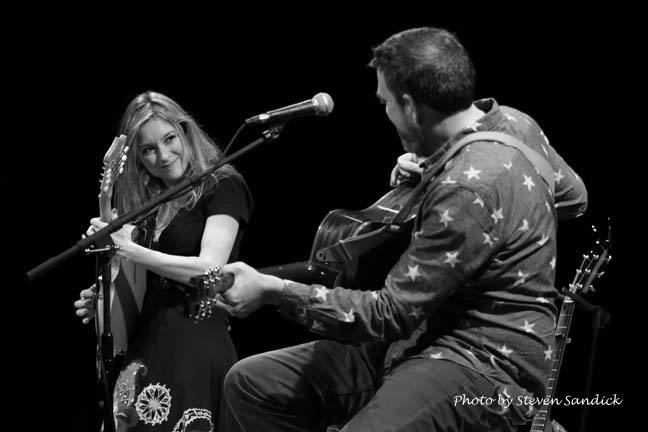 So it was with "Band of Gold" and the catchy "Heading Down the Road," which served as a great introduction to the act. "Can't Stop This Train" could well have referred to an involuntary foot-tapping that gripped the Landmark audience.
But most emphatically, on their album, Stream of Conscience as well as in the song "Green Paper Mountains," Two Thirds Goat strove to elevate awareness of mountaintop removal coal mining. Their plea was insistent without being strident.
Song and Spectre
Mattea would later soften the message with the finesse and updraft of personal narrative, but the message was unshakable. We are as yet one country. But the journeys of these two women, Mattea and McCoy, expose where ravines have been widened, destruction deepened, and despondence made commonplace.
The spectre of headless mountains is more than West Virginia and Kentucky metaphor.
It's a living nightmare of home sung by lungs blackened by fire. And the warming has just begun.
Video
"Ready for the Storm" with Dougie MacLean https://youtu.be/Wv4Wpychxh8 (Transatlantic Sessions c: 1995)
Quotes
"I really think that's what music and art is about. It's another way to connect to the divine. It's a real pure way of touching that deeper reality beneath our life."  -Kathy Mattea
Trivia
In what years did Mattea win the Country Music Association Awards female vocalist of the year?
Event Metadata
Artists
Headline
Kathy Mattea
Birthday
June 21
Opening or Co-Headline
Two Thirds Goat @TwoThirdsGoat Two Thirds Goat Facebook
Members: Annalyse McCoy and Ryan Dunn
Backing Musicians
Venue
Landmark on Main Street @LandmarkOnMain
Sponsors
Fabulous Folk Series: Tepper Family Foundation, WFUV
Landmark on Main Street Partners in Performing Arts for 2016-2017 season: Town of North Hempstead, Peter and Jeri Dejana Family Foundation, Peter and Dorette Forman Charitable Foundation, Winthrop University Hospital, Harding Real Estate, New York State Council of the Arts
Time
2017-02-12
Image Credits
Recommended Reviews
"As Nashville's Voice of Reason, Kathy Mattea Practices What she Teaches" Michael Bialas in Huffington Post (2016-08-15).
Answer to Trivia Question
1989 and 1990.  And how about all those Taylor guitars!