Was he a Michael Feinstein on guitar? Way more fun.  DarkViolin reviews the John Pizzarelli Quartet debut at the Landmark.
The path from the storied Carlyle Hotel to the Jeanne Rimsky Theater is only eight leagues (or, if you prefer, less than an hour riding the rails).  Sure, it's a well-worn path for commuters, but it's frequently traveled by torch-bearing performers of the American Songbook. Luminaries who previously trekked to the venue have included Jane Monheit, Alan Cumming, Tommy Tune, Madeleine Peyroux, Megan Hilty, Christine Ebersole and Mandy Patinkin. Heck, that's half the annual Jonathan Schwartz holiday show.
So it was no surprise to defenders of the Songbook when John Pizzarelli and his Quartet (sans Jessica Molaskey) made the journey to the Landmark this December.
Kicks on the Improv Route
It was a holiday show, which meant there were plenty of recognizable tunes which served as pitchers that the Quartet filled to the brim with warm jazz cider.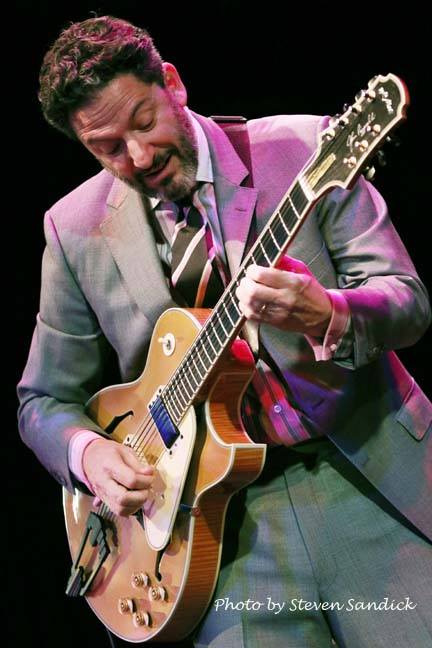 Concocting that cider with John Pizzarelli were Andy Watson on percussion, Mike Karn on standup bass and Konrad Paszkudzki on the Landmark Steinway grand. The quartet played as though they'd been together for years (not so), especially as they got their kicks in a jaunty cover of the classic "Route 66." More on that song anon.
"Sleigh Ride" was the perfect vehicle for the quartet. Each musician offered solos every bit as respectable as their suit-and-tie attire suggested.
From Pizzarelli's 2015 project, Midnight McCartney (Concord) they offered "Heart of the Country," "My Love," and "Let Me In," which featured the guitarist performing his signature doubling of improvised guitar parts on voice.
Pizzarelli is an accomplished guitarist (check out his version of "How High is the Moon") with a deep and impressive resume of original work and collaborations, but he can be a modest performer in person.
He makes the goal of making it all seem easy, well, easy.  That goes for his singing, too. "You can play or sing this," he seems to say. "I just happen to be up here tonight." Though dedicated listeners would notice that in his cover of Mercer's "Accentuate the Positive" some pretty darned fast licks surfaced.
The closest the Quartet came to political commentary was their animated version of the once-controversial song "You've Got to be Carefully Taught" from South Pacific.
Trivia Question
What other performer associated with the American Songbook appeared with John Pizzarelli in Rosemary Clooney's upbeat version of Baden Powell's "Let Go" from Clooney's Brazil album (2000)?
 "The Story You Are About to Hear Is True"
Reviewer Daniel Gross got it right when he referred to Pizzarelli as "glib, self-deprecating, [and] relentlessly buoyant."
If it weren't for the large hollow body custom guitar conspicuously draped around his neck, Pizzarelli's ebullient storytelling could make you forget that his is a musical performance.
On this evening, he wove a story around Julie London – the actress and jazz singer Pizzarelli dubbed "saucy," whose provocative Around Midnight album cover the guitarist insisted taught him how to tell time in the 70's.  The characters in this story included Bobby Troup, actor-musician and songwriter most often remembered for his role as Dr. Joe Early in TV's Emergency! – which was developed by Jack Webb of Dragnet fame.  Turns out Ms. London was first married to Jack Webb, and later to Troup. "A West Coast thing," Mr. Pizzarelli observed.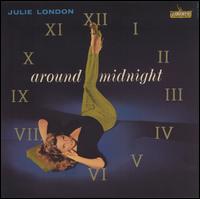 The connection? Troup wrote "Route 66," along with several earlier hits in the 40's covered by Glenn Miller, Sinatra, Bing Crosby and others. London, Troup and Webb were all jazz aficionados; Webb himself reportedly collected 6,000 jazz recordings in his lifetime.
Delightful Uncle John – with Thirteenths
Every large family has a sister, cousin or uncle with a gift for humor and storytelling. To experience an evening with Mr. Pizzarelli is to invite that comforting voice to charm everyone gathered around a flickering fire. He'll get you to sing (the Landmark audience was divided into sectionals to cover "The Twelve Days of Christmas"), even to laugh at yourself when you realize you won't be taking his place behind the microphone anytime soon.
Remember critic Gross's "self-deprecating" comment? None other than Sir Paul McCartney may have contacted Pizzarelli to create an album of McCartney's post-Beatles songs (Midnight McCartney), but Pizzarelli explained that there were two distinct types of people in the audience that night. There are folks happy with anticipation – the John Pizzarelli fans – and those who "came along with them." The latter, he speculated, likely regarded the tickets pinned to the fridge and asked, "Will we be eating out?"
By the end of the evening, there was only one type. That is, the type who appreciated the stories about Bobby Troup, Jack Webb, Julie London, Johnny Mercer and the beard Mr. Pizzarelli's Mom thought cluttered "such a nice face."
And surely appreciated the Quartet's seventh and thirteenth chords artfully placed like a wreath draped over a Landmark evening.
Poetry Echo
The weeping of the guitar
begins.
The goblets of dawn
are smashed.
The weeping of the guitar
begins.
Useless
to silence it.
Impossible
to silence it.
It weeps monotonously
as water weeps
as the wind weeps
over snowfields.
Impossible
to silence it.
It weeps for distant
things.
Hot southern sands
yearning for white camellias.
Weeps arrow without target
evening without morning
and the first dead bird
on the branch.
Oh, guitar!
Heart mortally wounded
by five swords.
"The Guitar" by Garcia Lorca
Answer to Trivia Question
Diana Krall
Socialization
Twitter
Landmark on Main Street @LandmarkonMain @ItsThePizz
Facebook
Event Metadata
Artists
Headline
Birthday
April 6
 Opening or Co-Headline
The Quartet is touring around the country from 2016-2017.  A few selected dates of interest to DV:  The John Pizzarelli Quartet plays Tucson at the Tucson Music Hall (January 2017), Phoenix at the Musical Instrument Museum (April 2017) Los Angeles (May 2017), Irvine at the Barclay Theatre (January 2017). And they'll be back at the Carlyle and at Birdland in 2017.
Backing Musicians
Andy Watson – percussion
Mike Karn  – bass
Konrad Paszkudzki – piano
Venue
Landmark on Main Street @LandmarkOnMain
Sponsors
Lisa and Victor Girgenti, Sandy and Eric Krasnoff, Carol and Sandy Krieger
Landmark on Main Street Partners in Performing Arts for 2016-2017 season: Town of North Hempstead, Peter and Jeri Dejana Family Foundation, Peter and Dorette Forman Charitable Foundation, Winthrop University Hospital, Harding Real Estate, New York State Council of the Arts
Time
2 December 2016
Image Credits
Keywords
jazz, Paul McCartney, Landmark on Main Street, Concord Music, American Songbook, guitarist, guitar
Summary
Reviewer
Review Date
Reviewed Item
Performance by John Pizzarelli Quartet and Landmark on Main Street 2016-12
Author Rating