Ani DiFranco electrifies an already charged audience in her brilliant Landmark debut
In the early days of human physiology, no one dreamed of Walt Whitman's Body Electric — what we now call bioelectricity. That discovery, which didn't happen until late in the 18th century, would happened centuries before if early scientists had encountered Ani DiFranco's ancestors.
This is a woman who exudes electricity. From the instant she hits the stage –yes, hits – Ms. DiFranco is a human dynamo. She transfers that considerable energy to her brilliant guitar-playing and impassioned vocals. And there is plenty of energy left over after that to fight oppression and champion the cause of feminism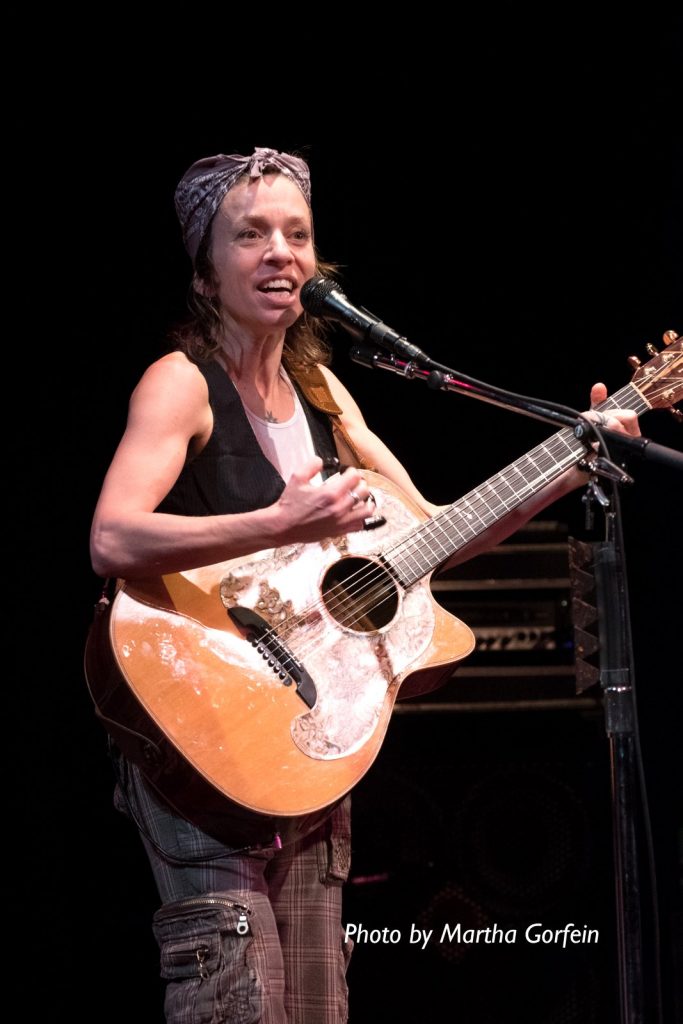 November 2016 saw DiFranco's debut at Landmark's Jeanne Rimsky theater.  It may have been her first appearance in Port Washington, but she was far from unfamiliar: the sellout crowd was eager, restless and brimming with song suggestions they did not hesitate to shout, not whisper.
DiFranco performed with Todd Sickafoose (@ToddSickafoose) on upright bass and a respectfully measured Terence Higgins (@SwampJig) on percussion. The two are professionals who are comfortable with a dominant talent in front of them. Their own virtuoso runs and rolls were generally saved for another day.
The performance took place a few days after the US Presidential election, and DiFranco only hours before the concert had been marching for hours in Manhattan. She was, as she readily admitted, both pumped up with optimism but also sensing that the feeling would not last. Showing not a trace of fatigue, she launched into "Names and Dates and Times" and "Not a Pretty Girl," from her 1995 album of the same name.
The Guitarist
Guitar guru Dale Turner told Guitar World that DiFranco is a "ferocious finger stylist," and it's no overstatement. He tells us that she achieves this impressive, full sound partly through the use of plastic artificial nails reinforced with electrical tape. Her aggressive style is reminiscent of another gifted musician, Tommy Emmanuel, who appeared at the Landmark earlier this year. DiFranco's style can be quietly articulated, but more often in this set list her songs were percussive, attacking the notes with an irresistible sense of purpose.
From a distance, her playing style resembles that of Level 42's bassist, Mark King (@King42Mark), but there's more going on with her alternate tunings and the occasionally surprising chord change.
Suffice it to say, aspiring guitar techs will take heart when they gaze upon an Ani DiFranco performance. The stable of guitars tuned to who-knows-what alternate string tension was in steady rotation throughout the evening.
Trivia Question: What poet from the 2006 Dodge Poetry Festival toured with Ani DiFranco?
The Poetess
DiFranco's musicianship is hardly the whole story, especially in the fraught political moment of November 2016. But, as with her altered tunings and sometimes in-your-face lyrics, the charge she gives an audience has the power of an alternating current that swings from dance to invective poetry. As if to emphasize the point, later in the show she delivered one of her poems from memory without guitar accompaniment.
"Because the world owes me nothing
And we owe each other the world."
– "Joyful Girl"
The evening closed with rousing performances of "Binary," a song from an upcoming studio album of the same title, "Overlap," "If He Tries Anything," "Woe Be Gone," and "Alla This," whose charged verse is worth repeating:
Bye Bye minutiae
Of the day to day drama
I am expanding exponentially
I am consciousness without identity
I am many things made of everything
but I will not be your bankroll
I won't idle in your drive thru, I won't watch your electric sideshow
I got way better places to go
The ensemble also performed, perhaps most urgently of all, DiFranco's new song "Play God," which Huffington Post writer Alanna Vagiannos called a battle cry for reproductive freedom.
It was an evening in which the plus of creativity met the minus of injustice. Those who listened carefully became that electric sideshow, but one that would not soon lose its charge.
Chastity Brown
DiFranco's show opened with a lively performance by Chastity Brown (@ChastityBrown), a Minnesota-based blues and roots rock-influenced singer. Brown was accompanied by guitarist Luke Enyeart (@LukeEnyeart). (Unasked-for advice: This is just the sort of pairing recommended for every folk singer contemplating a solo performance; effective arrangements such as these two achieved are far more than the sum of the parts.)   Brown's vocals, at times reminiscent of Tracy Chapman, evinced a breadth of heartfelt sentiment. The sentiments were sometimes crafted, such as when she deployed a vocal harmonizer, but more often straightforward, as illustrated in her lyrics to "Slow Time":
I like it when you say
That you don't believe what they tell us.
You'll find your own questions
And I like it when you say that.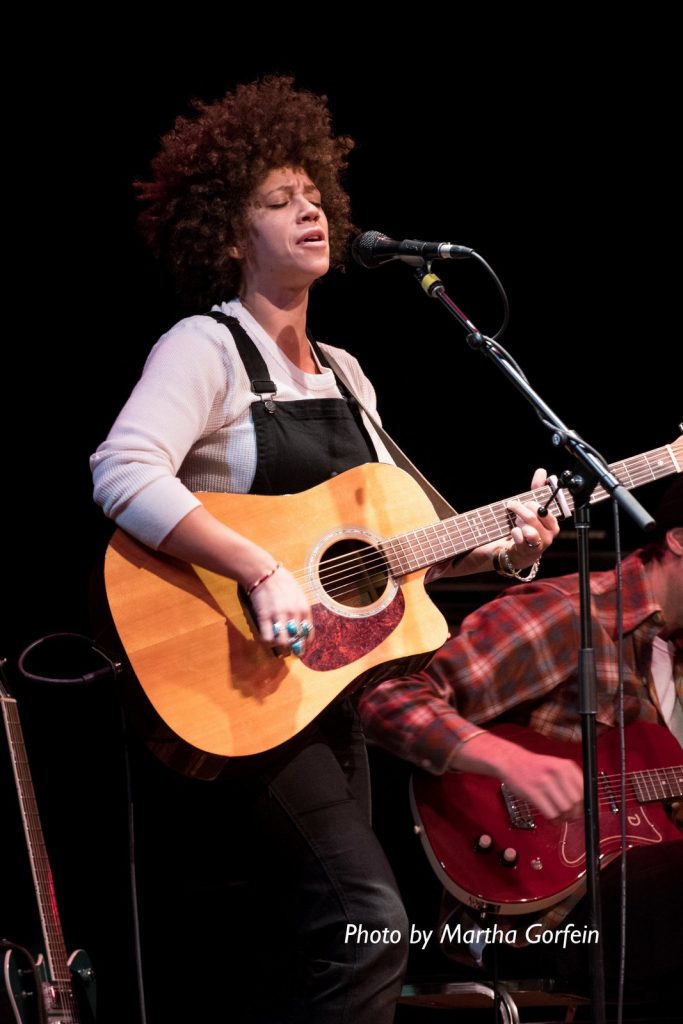 The Brown – Enyeart duo was a fine complement to DiFranco's tour, especially at this politically charged moment.  DiFranco wisely ensured that Chastity Brown's voice, drawn from what Brown herself calls "the marginalized experience," could be heard alongside her own.
Poetry
Here's to the tribe of the hyper-cyber
Trippin' at the virtual-most outpost at the edge on the tip
Believin' that what they hear is the mothership
Drawing near.
Here's to the was you been, to the is you in
To what's deep and deep, to what's down and down
To the lost, and the blind, and the almost found.
 from "Shout Out" by Sekou Sundiata
Image Credits
Martha Gorfein
Keywords
Long Island arts, live music, Ani DiFranco, folk music, rock music, indie music
Event Metadata
Headline
Ani DiFranco
Birthday
September 23
Opening or Co-Headline
Chastity Brown
Backing Musicians
Todd Sickafoose (@ToddSickafoose, bass), Terence Higgins (@SwampJig, percussion) and Luke Enyeart (guitar, with Ms. Brown)
Venue
Landmark on Main Street @LandmarkOnMain
Sponsors
Tepper Family Foundation
WFUV
Maureen and Joe Wekselblatt
Meyer, Suozzi, English & Klein PC
Landmark on Main Street Partners in Performing Arts for 2016-2017 season: Town of North Hempstead, Peter and Jeri Dejana Family Foundation, Peter and Dorette Forman Charitable Foundation, Winthrop University Hospital, Harding Real Estate, New York State Council of the Arts
Time
17 November 2016
Answer to Trivia Question