Hot Sardines, the early 20th century up-tempo hot jazz specialists, appeared in their Landmark debut.
Mostly known as nourishment for creatures further up the food chain, sardines don't get their due. But forget Omega-3 fatty acids and varnish. We're talking up-tempo hot jazz of the sort that has you mimicking 50's Sinatra, the irrepressible "finger-snapping hipster."
The music in question is from an earlier era, say the 20's and 30's, but don't let the mere passage of time slow you down. The hot jazz artists known as The Hot Sardines swam into town on waves powered by French Fries and Champagne (Universal Music Classics), not coincidentally the title of their latest album.
The heat was on, the tempo was up, and the group lived up to the standard set by their pedigreed producer, Eli Wolf (Norah Jones, Elvis Costello).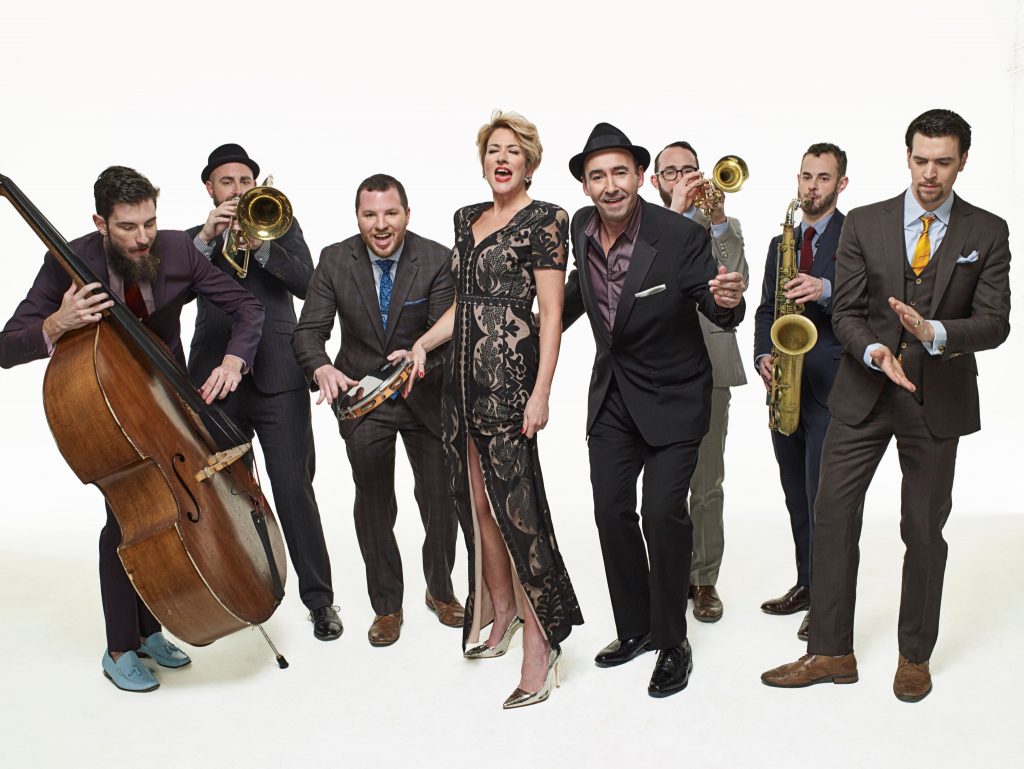 Mix Delicious
The evening began with a delicious ensemble of brass (trombone, trumpet, sax/clarinet), stand-up bass (or sousaphone), percussion, the Landmark Steinway – and tap dance, that secondary, sometimes show-stealing percussion "instrument."
The all-male, narrow-tie look was tailored (except perhaps Mr. "Sugar" Crane's impressive beard) and well-manicured, but the sound was even more so: tight and fast. Credit artistic co-director and keyboardist Evan Palazzo; the discipline paid immediate benefits. Even before vocalist Elizabeth Bougerol made her glamorous, front-woman entrance in black dress and heels, a musical tap-studded gauntlet had been thrown down.
How would the vocalist fit into this accomplished mix?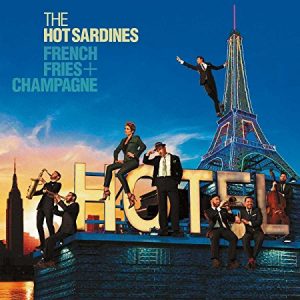 Just fine. With a sometimes understated style reminiscent of Nora Jones, Jane Monheit, Karla Bonoff and especially Madeline Peyroux, Ms. Bougerol delivered the perfect mix of energy and syllabic staccato that Hot Sardines arrangements demand.
The wind trio of Mike Sailors, Jason Prover and Nick Myers was an outstanding addition to the arrangements, despite the show-stealing tap footwork of provided by "Fast Eddy" Francisco. The group's solid musicianship and Palazzo-arranged phrases gave the ensemble's interludes of improvisation the well-primed trellis the genre needs.
Hot Sardines gave this audience some standout covers of "I Wish I Could Shimmy Like My Sister Kate," Cole Porter's "I Love Paris," "Royal Garden Blues" (with a Krupa-esque drum solo), Billie Holiday's "Them There Eyes," "Crazy Rhythm" (featuring the still-apt line, "What's the use of prohibition?").
Much love was showered on the standout tap work of Mr. Francisco, and more than one adoring female audience member was heard to croon approval. Ms. Bougerol acknowledged this, remembering Tommy Tune's revival of the form – perhaps unaware that Mr. Tune had appeared at the Landmark only last season.
Trivia Question  What artist who also appeared at Landmark in 2016 is featured in a Hot Sardines song from French Fries & Champagne?
Hot Future
The future for Hot Sardines is bright – brighter than for their oceangoing counterparts.
Elizabeth Bougerol has yet to come fully into her own with more deeply lyrical  – yet still steamy – vocal performances. The arrangements, already strong, could highlight even more the swing and swagger of the era.
Antidote for Canned Heat Nostalgia
The Landmark was built in 1908. While it started life as a school, over the years its halls surely rang out from time to time with period swing or ragtime song.  The Hot Sardines revived a history lesson in these halls, a lesson packing many a longing backward glance at Fats Waller and Louis Armstrong.
For those who pine for those fatty acid-packing cans, fear no more.  Canned heat is back in a new form.
So if you're feeling down and cold, buy or click on the video version of "When I Get Low I Get High."  The song is probably the Hot Sardines' hottest to date.
A simple finger-snap
will crack the coldest snap
this Long, Long Island can throw at you.
Live or streamed, the temperature is high and can only get, well, higher.
Backing Musicians
Evan Palazzo (keyboards, arrangements) | Facebook
Elizabeth Bougerol (vocals, Masters from London School of Economics)
Alex Raderman (percussion)
Mike Sailors (trombone, cornet; PhD in Composition from UT Austin)
"Fast Eddy" Francisco (tap dancer)
Nick Myers (clarinet, sax)
Jason Prover (trumpet)
Evan "Sugar" Crane (bass)
Poetry Echo
This is where the poem wins me back,
especially the lines spoken in the voice of the mouse.
I mean we've all seen these images in cartoons before,
but I still love the details he uses
when he's describing where he lives.
The perfect little arch of an entrance in the baseboard,
the bed made out of a curled-back sardine can,
the spool of thread for a table.
from "Workshop" by Billy Collins
Landmark Reviews, Connections, Appearances
Alan Cumming (2016), Madeline Peyroux, Jane Monheit, Karla Bonoff, Tommy Tune
Venue
Landmark on Main Street @LandmarkOnMain
Sponsors
Landmark on Main Street Partners in Performing Arts for 2016-2017 season: Town of North Hempstead, Peter and Jeri Dejana Family Foundation,  Winthrop University Hospital, Harding Real Estate, New York State Council of the Arts, Peter and Dorette Forman Charitable Foundation
Time
October 8, 2016
Image Credits
Darkviolin and © Joseph Cultice
Keywords
Jazz, Landmark on Main Street, Long Island music, live music, Dixieland, Hot Sardines, swing music, vocalists, brass section
Recommended Reviews
Interview by Scott Simon on NPR (June 2016)
Answer to Trivia Question
Alan Cumming, on "When I Get Low I Get High" included on French Fries & Champagne