Share |






Rock & Roll Hall of Famer Donovan Graces the Landmark
In Aldous Huxley's influential Doors of Perception, he quotes Thomas Aquinas to explain the possible benefits of mind-altering substances like mescaline. Drugs don't produce enlightenment or reveal truth and beauty, he concludes, but they can transform through the power of heightened perception. The result, Huxley said, was what Aquinas called "Gratuitous Grace."
Donovan's 60's classic tune "Hurdy Gurdy Man" was meant to invoke teachings from the Bhagavad Gita. Fifty years into the Donovan's own career, it's no stretch to think of Scotsman Donovan himself as messenger, sent to shine through
histories of ages past
unenlightened shadows cast
down through all eternity.
Polished Folk, then Super-Sauce Megahits
For the Landmark audience, the evening with Donovan would prove to be a wholly folk experience recalling Woodie Guthrie – except for the megahits which emerged from his catalog with pop music super-sauce and perfect chart timing. Eyes closed, it's easy to imagine a stage with Donovan's friends Graham Nash and Joan Baez reprising the early folk years. You know. Before Dylan went electric.
Donovan's singalong "There is a Mountain" has surely been performed around many a campfire once the familiar chorus of "This Land is Your Land" had warmed up the voices.
But then came "Sunshine Superman," a #1 Billboard hit and probably the one song most cited as defining the category eventually termed "psychedelia."
It was a song that cemented Donovan's connection to hashish, Haight-Ashbury, hippies, head trips – and Huxley.
In addition to "Sunshine Superman," Donovan's best known work includes "Jennifer Juniper," "Season of the Witch," "Atlantis," the contagiously accessible "Wear Your Love like Heaven," and "Laléna." (This reviewer was more familiar with Donovan's "Laléna" from a Deep Purple cover, but these are clearly Donovan lyrics).
"Mostly folk" is a fair characterization of Donovan's debut appearance at Landmark. Beginning with "Catch the Wind," "Colours," and later "Jennifer Juniper" ("She longs for what she lacks") and the more obscure "Alamo," he revisited the early- to mid-sixties folk style.
It was a movement that inspired him, he told the Long Island audience, "to take over pop culture in a Bohemian onslaught." Along with him on that ride, he reports, was the Gaelic-Irish-Scottish tradition, which taught him that "our poetry is in service to people."
YouTube offers a version of Donovan and Baez singing Donovan's "Colours" at the 1965 Newport Folk Festival. The untrained un-folky ear could mistake the song for early Dylan, and the two are associated, though more for their allegiance to Guthrie than any collaboration between the two. (Here's a young Dylan and Donovan sharing a Donovan tune in the 60's).
Donovan is also remembered for popularizing the Buffy Sainte-Marie song, "Universal Soldier," which sought a deeper, pervasive cause for all wars. He performed that song but, perhaps lacking backing musicians, skipped the catchier Jeff Beck Group-backed "Goo Goo Barabajagal."  Say that ten times.
Donovan, the Beatles and Vice Versa
Beatles historians will tell you that Donovan Leitch was a key influence and sometime companion. The unusually extensive Wikipedia page "The Beatles in India" identifies Donovan as one of the group or 60 some-odd luminaries and family who traveled to India in 1968. It was to be a trip that produced songs that later appeared on the Fab Four's epochal White Album and Abbey Road.
While in India, Donovan is credited with teaching John Lennon a guitar crosspicking technique that later appeared on "Julia" and "Dear Prudence."  Donovan is credited as co-writer with the Beatles' wacky "Rocky Raccoon,"  and Paul McCartney invited him to attach the first lyrics to what would become "Yellow Submarine."
Several of Donovan's own songs — "Happiness Runs," the US Top 5 hit "Hurdy Gurdy Man," and "Lord of the Reedy River" — were written there, too.
In "A Day in the Life," a video produced for the Beatles, observant viewers will see a close up of Donovan's Sunshine Superman on a turntable.
The evening wasn't all about name-dropping. Accompanying Donovan on that tour was Gypsy Dave ("Gyp") Mills, an early companion on an early seminal 1963 trip to St. Ives, Cornwall. Mills later became Donovan's tour manager for a time, and wrote a couple songs for Donovan's album The Hurdy Gurdy Man.
Performing from a seated position on sheepskin throughout the evening, a pose that invoked the Maharishi's Transcendental Meditation, Donovan offered the Landmark audience several anecdotes from this and later UK tours in which Roger Daltry, Keith Moon, the Walker Brothers and Graham Nash served as backdrop.
The More Things Change
In addition to reprising "Universal Soldier," Donovan sought to stand with the 280 Native American tribes gathering at the Sacred Stone Camp to protest an oil pipeline in North Dakota. His granddaughter, he said, wanted to be sure that he would "sing the great song of the sky."
While the audience roared its approval of the "Mellow Yellow" and helped him close out the evening with the ever-refraining  "Atlantis," Donovan the pop icon showed himself to be a humble, appreciative performer who recognized the powerful currents into which his songwriting flowed.
There was a war going on – another war – and yet the teachings from art schools – dance, sculpture, painting, poetry – spoke just as loudly, explained Mr. Leitch. He could truly answer Paul Simon's rhetorical question in "Fakin' It":
 "Good morning, Mr. Leitch. Have you had a busy day?"
A day that starts with an act of imagination. "Picture yourself in a boat on a river." For some born in a certain era, the call to inspire and to be inspired, was to "wear your love like heaven." With gratuitous grace.
Next Up at Landmark
Betty Buckley kicks off the Dim the Lights series on Friday, September 30.
Rishikesh as Seen by Lewis Lapham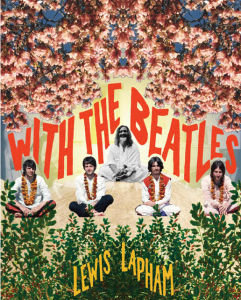 He gets only a slight mention in most accounts of the high profile spiritual tourism that was Rishikesh in 1968, but the only journalist to get a glimpse of the goings-on in India with the Donovan-and-Beatles entourage was one Lewis Lapham, later to become long-serving editor of Harpers and social critic. Despite the title and cover, Lapham's collected essays from the time are not pop star hagiography, but an account of the event as cultural history. As with the strange plot twists that would later connect Prudence Farrow ("Dear Prudence," later to hold a PhD in Asian Studies) with Robert Durst, the seekers' atmospheric had but a distant connection to the antiwar sentiment that gripped US and European counterculture at the time. As Lapham tells it, the Tet Offensive was off the radar  in the Maharishi's 1968 India.
There will be no mention of Donovan in it, but F.S.C. Northrop's Meeting of East and West offers a deeper treatment.
Image Credits
Photos by Steven Sandick.
Music Technology
Donovan played a custom Ferrington acoustic steel string guitar built for him in 1996 through a Roland JC-120 amp.
Poetry
When the truth gets buried deep

Beneath the thousand years asleep

Time demands a turnaround

And once again the truth is found"
Verse to "Hurdy Gurdy Man" penned by George Harrison but not included on the final cut.
Event
Landmark on Main Street | Port Washington NY
10 September 2016
Follow DarkViolin |