Tommy Emmanuel and opening act Richard Smith lit it up in an acoustic steel and nylon string assault on the wood frame box some call a guitar.
"This is one act I need to see at least once before I die."
Prince, David Bowie, Michael Jackson, Cream, The Eagles, Yes, ELP, Deep Purple  . . .  These are a few of the acts you won't be able to see in their best-known lineups. However high their reputations soar, musicians are mortal.
If you've hit the replay button to listen to a guitar solo – ever — then Tommy Emmanuel belongs on your live music bucket list.
This reviewer is not a fan of the "best" adjective in front of a musical category, such as "best guitarist," (prompting many a flame war) but some do feel otherwise. In 2012, Tommy Emmanuel won the MusicRadar best acoustic player contest. If you're the sort who savors such lists, and Mr. Emmanuel is not on yours, time to open your text editor and relaunch some flame wars of your own.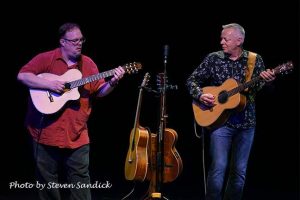 Chet Atkins Meets Debussy
Emmanuel's technical and stylistic roots can be traced to Chet Atkins and Merle Travis. In fact, Tommy Emmanuel recorded an album with Atkins, The Day Finger Pickers Took over the World (1997) which featured Emmanuel's original homage to Atkins, "Mr. Guitar."
Teresa Annas chronicled the relationship between the two influential players for The Virginian-Pilot.
Emmanuel, like Travis and Atkins before him, tends to be associated by casual listeners with a country "Nashville sound." Indeed, at times the signature thumb pick alternating bass parts dominates. Hear this theme in the Travis performance of "Cannonball Rag," and in Chet Atkins' cover of "Whispering" from his immensely popular Workshop album.
Part of the underlying technique sounds simple, but it's not, as the Wikipedia entry for "Travis Picking" advises.

Emmanuel takes the technique to another level. With Richard Smith, as well as others like Fleetwood Mac's Lindsay Buckingham, whose playing hybridizes Travis picking with a guitar version of banjo frailing, practitioners have pushed the boundaries. Phrasing includes longer arpeggios and liberal use of fast scales.
Reflecting that broader tooling, Emmanuel recorded a version of "Gollywogs [sic] Cakewalk" from Debussy's Children's Corner (1908).  It begins with a generous helping of harmonics more reminiscent of harpist than guitarist technique. Emmanuel invites you in with his finger speed, then ambushes you with gentlemanly guile.
Trivia Question With which female vocalist whose real first name is "Anna Mae" did Tommy Emmanuel tour in 1987?
Richard Smith, Nylon String Doppelgänger
It's easy to see why Emmanuel choses to tour with Richard Smith, whose finger- and flat-picking technique was impressive enough to win the Golden Thumbpick Award from the Association of Fingerstyle Guitarists.
Smith performed several numbers with cellist Julie Adams, who provided the perfect antidote to any ear fatigue arising from an evening memorable for its flurry of plucked notes from two hyper-proficient guitarists.
Smith produced fine covers of Jerry Reed's "Mister Lucky," "Stardust" and a hilarious rendition of "Tennessee Waltz" as heard on a wobbly turntable.
A studiously off-season highlight was an innovative cover of the holiday classic, "Little Drummer Boy." The duo's Andalusian adaptation ventured into some unusual tonalities, prompting some audience ear-stretching – a welcome prophylactic.
But overall, Richard Smith's music taps what he admits is "happy blues." Executed with this level of proficiency, Smith's music is what elevator music should be.
"What He Said:" When Guitar Heroes Let the Music Speak
Many in the sellout crowd likely came to see the smoke rising up from Emmanuel's fretboard, and they weren't disappointed. With astonishing fretboard speed, the musician proved he has earned guitar hero status.
While his style can be aggressive at times – OK, he ruthlessly assaults his instrument at times with triple forte strums and hurls, not removes a capo – Emmanuel's set included a pleasant mix of genres. In addition to blistering rags, he played "Duke," an homage to the late actor, the jazz standard "Sweet Georgia Brown," "Blood Brother," a shout-out to vets, a moving version of Billy Joel's contemplative "And So It Goes," "Angelina," written for one of his three daughters, "Amazing Grace," and a pianist-worthy rendition of "The Entertainer."
Tommy Emmanuel will likely be reincarnated as a drummer. He demonstrated his chop with sticks, striking the guitar frame, nut, headstock, rim – even the microphone – with characteristic speed and glee.
Recalling the time he met Paul McCartney at a concert in Sioux Falls, Emmanuel showed himself to be a dedicated disciple of Beatles music, recalling Chet Atkins Picks on the Beatles (1966). To prove it, the performer trotted out fine versions of "Gently Weeps" and a medley mashup of "Day Tripper," Mason Williams' "Classical Gas," and "Lady Madonna."
The evening ended with a much-anticipated Richard Smith duet in which the two traded licks, each more impressive than the last – all in all a happy confluence of harmony and fingerpicking mastery.
Paganini Lesson
Blazing speed wasn't the only memorable aspect of Tommy Emmanuel's performance at Landmark.  The evening's crowning delight was his cover of "Michelle."
The Beatles classic shimmered and hung in the air like a weightless gown captured in the instant before it was to descend upon an invisible Rodin nude. It was a moment utterly devoid of technique and pretense.
After the jaw-dropping, Paganini-inspired notes subside, the Tommy Emmanuel experience consoles and pacifies. More than deep respect for the tradition for which he is a standard-bearer, he oxygenates the songs that are its lifeblood.
Poetry Echo
Every tree is an ancestor tree,
not just grandfather redwoods.
Every sapling, every sprout,
carries that majesty,
the dissolution of stone and bone,
of mold and leaf and tongue,
flowing as freely as blood
in earth's leisurely body,
the oldest and slowest rhythms
crooning in its ways.
From "Every Infant's Blood" by Graham Duncan
Answer to Trivia Question: Tina Turner 
Event Metadata
Artists
Headline
Tommy Emmanuel
Birthday
1955-05-31
Opening or Co-Headline
Venue
Landmark on Main Street @LandmarkOnMain
Sponsors
Landmark on Main Street Partners in Performing Arts for 2015-2016 season: Town of North Hempstead, Peter and Jeri Dejana Family Foundation, Bank of America, Winthrop University Hospital, Harding Real Estate, New York State Council of the Arts
Time
2016-06-23
Image Credits