Alan Cumming, much heralded actor, singer, author, brought a portfolio of sprite-song to Landmark – to a sold-out gallery of wildly satisfied fans.
"I loved him as Eli Gold in The Good Wife."

"He was great as Nightcrawler in X2: X-Men United."

"Creepily sexual as Master of Ceremonies in Cabaret on Broadway."

"I look forward to his crisp introductions on Masterpiece Theater."

"He had me at Emma.  The perfect Jane Austin's Mr. Elton."

"His memoir Not My Father's Son was gutsy and articulate."

"I'm still dreaming' "Floop's Dream" from Spy Kids."
These were just a few of the comments heard while threading a path through the sellout crowd at Landmark on Main Street last week.
Setting a Scottish Club Scene
The scene was a much-anticipated performance by Alan Cumming.  Cumming's profile, highlighted by a just-concluded run in The Good Wife, had doubtless amped up expectations, and many in the audience seemed to have also enjoyed his past performances in New York City where he now takes up residence. Those performances include the aforementioned Cabaret, The Threepenny Opera, Macbeth and Design for Living.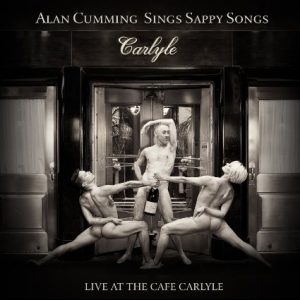 If you missed those shows, it "didnae" hurt your "eve-nin'" one bit. The familiar star's portfolio consisted of tunes from his 2016 release, Alan Cumming Sings Sappy Songs, and, for the most part, they were just what you'd expect from an invitation to Club Cumming at Studio 54.
Piano, Cello and Actor
Supported by arranger Lance Horne on piano and cellist Eleanor Norton, Mr. Cumming delivered a mix of classic cabaret (Kurt Weill's "The Song of Inadequacy of Human Striving"), classic rock ballad (Billy Joel's "Goodnight Saigon" and "And So It Goes"), pop ballad (Keane's "Somewhere Only We Know") and Sondheim (a mashup with "No One is Alive While I'm Around").
As if to assess whether he had the full attention of his audience, he added "The Climb" by no less than Miley Cyrus, and "La Complainte de la Butte" by Jean Renoir, sung in what this reviewer was persuaded had to be perfect French.
Those Arms, Dah-ling
The arrangements were tasteful and un-loungelike. Often the cello parts were allowed to surface and swell unguided. Or longer, bowed notes paralleled Cumming's lower register. Other times, Horne's arrangement let the harmony spin out, then resolve itself by taking up a satisfying residence on the cello's C string — that firmament, that un-middling stake in the ground two full octaves below middle C.
Normally Ms. Norton's cellist arm busy evoking those tonalities would have drawn attention, but on this occasion eyes were usually aimed at Mr. Cumming's.
Props for a Scottish Play
Cummings took the stage wearing a coat, fashionably thin tie and high tops, but after the first song he flung the coat off, revealing a sleeveless black muscle shirt – and keeping the tie. The audience roared its approval, but the artist's rationale was about more than comfort and bravado.
The actor, true to his roots, sees the Shakespeare in the sappiest of song. As he told The Guardian in 2012,
"Macbeth was the first play I ever read. In fact, I remember my brother Tom, who is six years older than me, coming home from school and telling me about it. He was the one that really got me going."
Trivia Question: Which company reportedly sponsored free alcohol in Mr. Cumming's improvised backstage Cabaret lounge, Club Cumming?  Club Cumming's semi-regular attendees have included Pierce Brosnan, Monica Lewinsky, James Franco, Cate Blanchett, Woody Harrelson.
Cumming in full song includes an ensemble of brow- and hair-sweeping, arm gestures and hand movements. More than prop and mannerism, these tools are syllable and punctuation, used to full effect in the Jean Renoir song.  Coupled with a capable voice and convincing range, these are storytelling assets that only a top flight actor has at his disposal.
And there was more storytelling to the evening: the abusive father, the grandfather whose South Pacific war heroics ended on the losing end of Russian roulette, the condom ad done with Rikki Lake – each worth the retelling.
But those stories are told more fully in his 2014 memoir, or through characters in his 2002 novel, Tommy's Tale.  Instead this night's performance sought to cultivate a connection begun with an audience that felt it somehow already knew him.
Instead it was a night for Mr. Cumming to deploy his very considerable talent to deepen that delightful illusion.
"I dare do all that may become a man;
Who dares do more, is none."
-Macbeth
Poetry Echo
I am the actor, the actress, the voter, the politician,
The emigrant and the exile, the criminal that stood in the box,
He who has been famous and he who shall be famous after to-day,
The stammerer, the well-form'd person, the wasted or feeble person.

I am she who adorn'd herself and folded her hair expectantly,
My truant lover has come, and it is dark.
–from "The Sleepers" by Walt Whitman
Recommended Reviews
Schulman, Michael, "For Alan Cumming, Life Isn't Always a Cabaret," New York Times, 2014-10-+03.
Musto, Michael, "Alan Cumming on His Career as a 'Naughty Pixie,'" Advocate, 2016-02-29.
Socialization
Alan Cumming @AlanCumming Instagram
Lance Horne,  piano, arrangements (Facebook, @LanceHorne, Instagram)
Eleanor Norton, cello
Trivia
Answer to Trivia Question: Club Cumming's liquor sponsor was Campari America
Credits
Backing Musicians
Lance Horne,  piano, arrangements (Facebook, @LanceHorne, Instagram)
Eleanor Norton, cello
Photography
Image credits: Steven Sandick Photography
Venue
Landmark on Main Street @LandmarkOnMain
Sponsors: Dot and Ed Slade
Landmark on Main Street Partners in Performing Arts for 2015-2016 season: Town of North Hempstead, Peter and Jeri Dejana Family Foundation, Bank of America, Winthrop University Hospital, Harding Real Estate, New York State Council of the Arts
Summary
Event
​
Alan Cumming Sings Sappy Songs
Location
​
Landmark on Main Street

,-

11050
Starting on
Ending on