"Mashup" is one term that's been used to describe the eclectic sound of Caravan of Thieves (Facebook | Twitter), but what's being mashed isn't so obvious.
The suggested appellation from the Thieves' web site starts with "Gypsy Swinging Serenading Firebreathing Circus Freaks," and moves on to invoke Django Reinhardt, Stomp, the Beatles and Tim Burton ("because he's dark," they explained when John Platt asked about the Burton in their opening interview at Landmark).
Trivia: What Queen song is Caravan of Thieves known for covering?
But in case that doesn't do it, I'll drop a few more expressions into the mashup ring: Frank Vignola, Weird Al Yankovich, Dan Hicks (mentioned in their bio), and Stéphane Grappelli.
The two-headed brain of this act is James "Fuzz" Sangiovanni (Facebook) and Carrie Sangiovanni (Facebook), who've been refining this high wire act since meeting in Burlington VT back in 2003. Their surprisingly similar voices are often featured in pleasingly tasteful close blends, as in "I Got You," a love song they offered up, once Fuzz had caught his breath from a bout of hyperkinetic percussion soloing on a previous number.
Haven't heard of them? Caravan of Thieves (video features the band's 2015 lineup) has brightened the stage with the likes of Emmylou Harris, Dan Hicks (remember his hot licks?), and The Decemberists. "Fuzz" has also contributed to Deep Banana Blackout.
The frivolity extended to "Eat You" ("Cause you've been sticky with your tricky words / And I would crumble like a humble bird / Now you're so tender with an ear I can bend and tell you how I feel") from The Funhouse.
The "gypsy' part of the band's self-description was evident in "Monster" from the same album, which featured the truism that "Love made a monster out of me" and some great unison guitar-violin speed-licks. They weren't present, but you could hear accordion and clarinet parts in the mix somehow.
Less gypsy and more Hot Licks Classic Pop was their knee-slapping version of the Beatles "Girl" and "Being for the Benefit of Mr. Kite."
Speaking of the mix, kudos to violinist Nicole Scorsone (Facebook) and standup bassist Dan Asher (Facebook), who are the latest to learn some remarkably nontrivial parts.
Caravan's core duo produces a sound from foot-stomping part writing, speed-strumming (think Django), violin tremolos, and classically-influenced phrases embedded like cherries in a pudding. These are signature Caravan elements, especially in "Shim Sham," "Monster" and "Eat Me." (It's a recipe less submerged in their live cut, "Bar Isole / Tocatta e Caravan" on Mischief Night.)
This is a band that ambushes with sneaky talent. When Caravan finished with a brilliant cover of Queen's "Bohemian Rhapsody" I felt deliciously eaten. If this is Caravan's dark, it's the dark of a New Orleans funeral procession.
Yet I, they say, am they—
my bacteria and yeasts,
my father and mother,
grandparents, lovers,
my drivers talking on cell phones,
my subways and bridges,
my thieves, my police
who chase my self night and day.
– Jane Hirshfield, from "My Proteins"
Socialization
Caravan of Thieves (Facebook | Twitter)
Fuzz Sangiovanni (Facebook)
Carrie Sangiovanni (Facebook)
Nicole Scorsone violin (Facebook)
Dan Asher (Facebook)
Caravan of Thieves Social Media: Fanbridge
Answer to trivia question: "Bohemian Rhapsody"
Venue
Landmark on Main Street @LandmarkOnMain
Date
16 January 2016
Co-Headline
Matt Nakoa, Roosevelt Dime, Caravan of Thieves
Backing Musicians
Nicole Scorsone (Facebook)
Dan Asher (Facebook)
Image Credits
Steven Sandick (Facebook) or Caravan of Thieves
Summary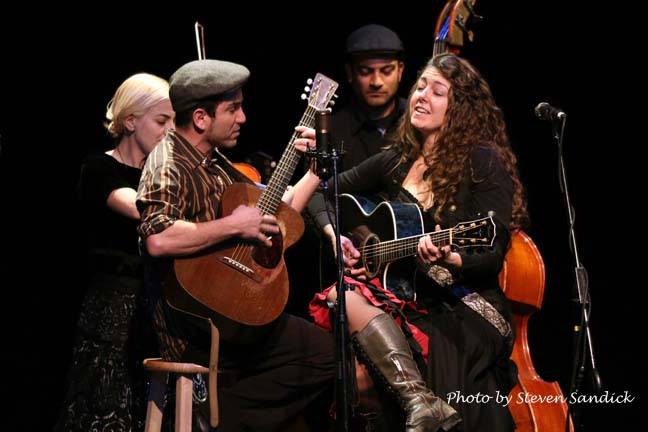 Article Name
High Wire Hot Licks: Caravan of Thieves Steals into Port Washington
Description
Darkviolin reviews the debut appearance of Caravan of Thieves at Landmark on Main Street in January 2016.
Author
Publisher Name
Publisher Logo