Before he had even struck a note, David Bromberg had achieved two remarkable non-goals. First, he sold out his third strong appearance at Landmark. Second, he achieved this first milestone on an evening when the local major league baseball team, the Mets, were appearing in game 4 of the World Series a short 14 miles away at Citifield.
The expression "loyal fan base" would be an understatement where Bromberg's following is concerned. Among those in attendance was Gary Giuntini from Bellerose who estimated that he had seen David Bromberg perform a dozen times.  Giuntini was likely not the only frequent fan on this evening, because the audience for this show was not only enthusiastic, it was well versed in the entire Bromberg catalog. That catalog spans the early 70's until the present.
Jukebox Jam
A unique mix of tunes is central to a Bromberg Big Band brew. The Big Band part of the evening began with "Before I Grow Old," and a rousing bar-band rendition "I Love my Whiskey – Sloppy Drunk," the latter giving Bromberg a chance to solo with some electric slide. A jazz-inflected trumpet solo was the highlight of "Eyesight to the Blind," but that tune and "The Joke's on Me" surfaced Bromberg's feigned lowbrow dialect. "Send me to the 'Lectric Chair" was an audience favorite that featured perfect "girl" backup vocals and memorable brass solos: trombone first, then trumpet with mute —  both with a grinning Bromberg accompaniment throughout.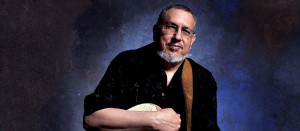 "The Holdup" was a perfect excuse to offer up lines like "Wealth is the disease and I am the cure," more of Bromberg's velvet hammer. That hammer brings opinion, but does little damage. Bromberg lyrics elevate a polished coarseness to a sort of pub savvy. Proof: "Where other men have gone insane, I'm only slightly mad," he sings in "Strongest Man Alive," his version of an English drinking song. Because, it might be said, "I alone live on while all around my friends and loved ones die."
As on previous occasions, the evening featured a skillful solo interlude from guitarist Mark Cosgrove, gentle soapbox for a flatpicking style he attributes to the legendary innovator Clarence White.  Cosgrove, Bromberg and Grower then teamed for an instrumental flat-picking acoustic guitar trio, also rare for this venue, followed by a Bromberg guitar solo.
There was more. For instance, the improv frame "Blues in the Key of C" served its purpose well, with outstanding solos by Payne and Coswell, ending with its multilingual alliterative paroxysms of "goodbye."  The band also performed the "Kaatskill Serenade" and covered Sam Cooke's "Don't Know Much About History,"  the lyrics for which Bromberg could well have penned himself.
What Bromberg called his "Swamp Gas Brass" section was a delicious edition to the Bromberg Bouillon. Self-serving suggestion: Do bring them back for the next sell-out performance in this town.
How Big a Band
The David Bromberg Big Band was, on this occasion, reliably big. He brought nine musicians with him to Port Washington, and for most of the evening, they were pleasingly busy. The night's lineup included:
Mark Cosgrove (guitar, mandolin, vocals)
Nate Grower (violin, mandolin, guitar)
Butch Amiot (bass, vocals)
Josh Kanusky (drums, vocals)
Birch Johnson (trombone)
John Payne (sax, clarinet, penny-whistle)
Peter Ecklund (trumpet; he's credited on this 1978 program)
Nancy Josephson (vocals + Bromberg moral support)
Kathleen Weber (vocals)
So they're big, but what gives an audience almost as much pleasure as the full sound of all those instruments and voices is the big smile on Bromberg's face during alternating solos. The man not only relishes the talent he's gathered; he is its biggest fan.
'Twas Such a Night
A Bromberg set is the creation of an inscrutable premeditation, partly designed to frustrate his hardiest fans. But closing the evening with a "Such a Night" cover was the perfect choice, made more perfect in the way it was executed. After playing through a verse or two, the musicians left the stage — one by one, starting with the evening's headliner himself. Last to go was Birch Johnson, whose trombone playing —  a rarity at the Landmark — gave the audience almost as much pleasure as it gave Bromberg himself.
►Ann Latner reviews previous Bromberg performances at Landmark: Nov 2013 and Dec 2010 on AnnReviews.com.
Fred Gillen's Hudson River Hope and Harmony
Opening for Bromberg was Peekskill-based Fred Gillen Jr (@FredGillenJr). If you'd had a difficult day of drudgery or detail, Gillen was the perfect antidote. With a demeanor that blended earnestness with heartfelt respect for his folk roots, he offered a suite of classic and original tunes that hewed closely to the genre suggested by his bumper-sticker-emblazoned steel string guitar. Gillen began that suite with the Elizabeth Cotten classic "Freight Train," which he admitted he was quite obsessed with. The tune was no doubt familiar to the Port Washington audience, who had previously heard it performed by the hometown Front Porch Players, and more singalongs were about to come.

His seven-song set included several standouts.True to his bumper sticker, " Strength through Peace," Gillen offered his own song, "Killing Machine," ("there is no job for a killing machine back here in civilization"), a Pete Seeger tribute ("I Dreamed I saw Peter Seeger") and closed with a tasteful version of the Leonard Cohen classic "Hallelujah."
Fred Gillen Jr. is not new to the scene — probably because sunny disposition has carved out a permanent spot on many a cloudy stage or campfire.
Lesson in High Expectations
Despite high expectations from their home town crowd, the Mets did not succeed on this particular evening. The same was definitely not true of David Bromberg's crowd at Landmark — and their expectations of Bromberg were justifiably even higher.
Repetition's magic. I knew it in my bones.
Let me repeat my dream for you,
let me repeat it for myself.
Let me talk on in this starlight,
these meteor streakings of nonsense,
this chaos, these fractals and freckles.
from "One A.M. [Excerpt]" by David Young
Image credits: the artists