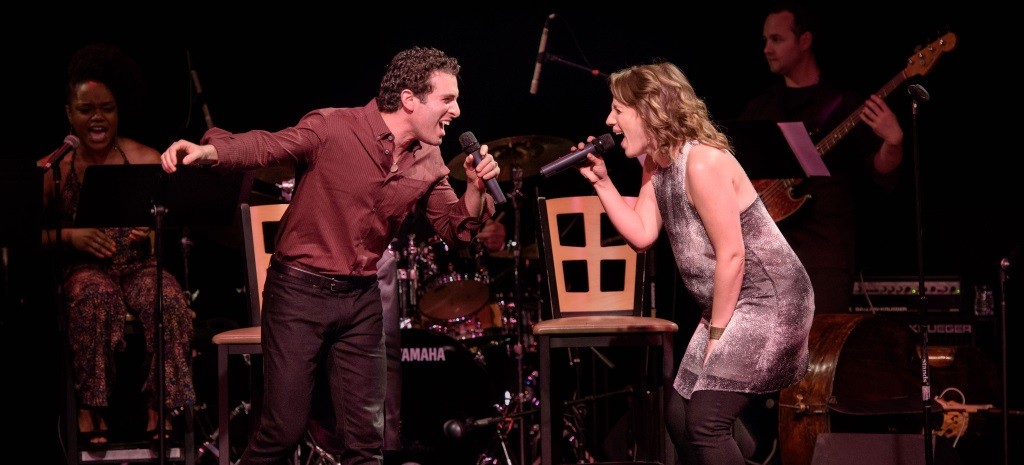 Landmark closed its season with a sold-out performance featuring two high caliber performers.
The evening featured a pairing of Broadway stars that had its roots in a Broadway venue: Jarrod Spector @JarrodSpector and Jessie Mueller performed together in Beautiful: The Carole King Musical. Mueller played Ms. King and Spector played Barry Mann. Spector is still in the show, and was none the worse for wear for having performed earlier that afternoon. Ms. Mueller has gone on to other projects, but from this acquaintance would come an evening's delight.
Delight like their first medley featuring Spector's adoption of Elton John's "Your Song" and Mueller responding with one of her own, Carole King's "I Feel the Earth Move."
It was a not wholly unexpected delight. Jarrod Spector's appearance was a return to the Port Washington stage (Patch, AnnReviews), where he had triumphed around this time last year – and that one had been his third Landmark appearance. His energy level in this, his fourth, was undiminished.
The two then alternated, with Spector taking on the Righteous Brothers' "You've Lost that Lovin' Feeling" and Mueller covering a version of the Harold Arlen classic "This Time the Dream's on Me" by her teen heartthrob Harry Connick Jr. She went on to sing Nina Simone's "It Might as Well Be Spring" and Fred Astaire's "Every Night at Seven," which greatly benefitted from an inspired arrangement.
As if somehow the audience could have tired of all that, Spector then trotted out his audition-winning, "money-shot"-containing (his expression), Skyliners tune, "Since I Don't Have You."
Those in attendance were also treated to similarly well covered versions of the Four Seasons' "Can't Take My Eyes Off of You," the Long Island crowd-pleasing "New York State of Mind" and a Bee Gees-influenced version of "If I Can't Have You" (originally an Yvonne Elliman hit).
Sequined-shoe Song-slinger
Unlike the Landmark veteran Spector, this was Mueller's first appearance at Landmark, but the Tony Outstanding Actress Award winner (yes, for Beautiful) Jessie Mueller likely added a concert hall of Long Island fans to her young career's conquests. The Evanston, IL star brought her sequined shoes and upsized Broadway voice to the Port Washington stage and matched Spector's energy and sparkle. (Can sister Abby be far behind?)
She showed herself worthy of Sondheim's "Being Alive" (Company) in an arrangement highlighted by a sonorous bowed-bass solo. But when the drummer brought out the brushes and the sax player wound out on a sexy solo, Mueller showed a finesse honed in all those Beautiful performances with her version of "The Music that Makes Me Dance" from Streisand's Funny Girl.
Still of the Night
No, Spector didn't take on the Whitesnake classic from the 80's (though stay tuned to learn which rock classic he did tackle). But he did a show-stopping version of "Bring Him Home" from Les Miserables.  His control of the lyric, sustained tone and command of vibrato were to die for – especially his handling of adjacent notes, which some singers have a tendency to slip past. It was a laser-perfect performance and a singer's-singer evening-topper, during which the audience dared itself to breathe.
Flanked by a spritely, professional set of backup musicians – two backup singers, drums, sax, guitar, bass (electric and acoustic) – Spector and Mueller created a rich diversity of texture and pace that created a kind of drama that belied their easy between-song conversation.
The ensemble took a right turn into Rock and Roll when it tackled Spector's "favorite song," Aerosmith's "Dream On."  This was a bit off-course for this Broadway-centric crowd, but the performance was so well done, with Spector hitting the later-chorus falsetto "Dream On! Dream On!" passages with an assurance that a seventeen year old Steven Tyler could not have managed.
Double-Dose Delight
Mueller's version of Carole King's "(You Make Me Feel Like) A Natural Woman" was what this audience craved, but by the time the show closed with a high octane duet of Fleetwood Mac's "You Can Go Your Own Way," Spector and Mueller had not only demonstrated that two is better than one, but that a double-barreled dose of Broadway talent makes for one very valuable Landmark ticket.
Landmark will have more Broadway stars on its program next season, but Spector and Mueller have created a thirst that only a return engagement — including this most capable crew of backing musicians — will quench.
That said, after Spector and Mueller left the stage, Landmark's Executive Director Laura Mogul returned to announce to a cascade of happy gasps that Alan Cumming (@AlanCumming) (The Good Wife, Cabaret and MC of PBS's Masterpiece Mystery!) will grace next season's playbill.
One other thing. Shouldn't the Landmark season last throughout the summer?
Image credit: Steve Silberstein