A 6'2″ slim Tom Arnold full of lessons learned from his 125 films and a miracle baby was at the top of his storytelling game in a recent appearance at Landmark on Main Street.
His lessons ranged far and wide: best way to eat a cake (frosting first: there might be an earthquake), disproportionate impact of vitro fertilization on women (some will find a way to make you pay), reflections of a true animal enthusiast (the perfect pet dog: a poop-eater).
Not bad for an Iowa kid who grew up on a farm with six siblings, spent three years working in a meatpacking plant, and paid his dues laboring as a standup comedian in relative obscurity until he met Roseanne Barr in 1983. Fast forward to 1992 and Tom Arnold was to headline the sitcom Jackie Thomas Show – back in the day when you could count the number of networks on one hand. Based on his film output, the work has been remarkably steady, if not ego-steadying.
As Arnold tells it, rugged farmboy roots were excellent preparation for coming tests: with alcoholism, drug abuse, obesity, fickle Hollywood friendships, observing his fourth wife's cesarean section, episodes of tabloid turmoil, and an irrepressible urge to inspect Oprah's infamous 67 pounds of proxy fat rolled onscreen in a wagon. (He was to find himself less prepared, though, for his aging father's careless below-the-waist coverage.)
More than a survivor, Arnold's fourth marriage and miracle baby two-year old boy have him seeming vital, engaged, yet not above calling surgery "a snow day" because it would be likely preceded by a dose of Midazolam — that is, Versed.
Unenvied Inhabitants
Because Tom Arnold feels he is blessed, a Tom Arnold story emerges somehow envy-free. When celebrities inhabit them, it is not to elevate the storyteller.
When Jenny Craig fired the Tom and Roseanne Arnolds in exasperation it was a perverse badge of honor.
Arnold remembers making Nine Months in 1995 as time spent with Robin Williams while the two managed two weeks on a turkey-and-mustard diet.
Also from the Nine Months shoot: "Then-best bud" Hugh ("Lewd") Grant's notorious indiscretion, which Arnold told the audience he had half-jokingly warned his friend to avoid earlier that day.
Childhood hero Arnold Schwarzenegger was called in for an impromptu screen test for True Lies with Tom Arnold under the unexpectedly generous guise of director James Cameron.
As if to offset his other tribulations, Arnold's reputation has remained unharmed.
The late Roger Ebert in his review of Nine Months, wrote that "At the end of the film, the characters I remembered most fondly were the couple played by Tom Arnold and Joan Cusack. They had more comic energy, more consistency and better dialogue."
One must admire a comic whose life story can be summed up in – count 'em – 125 films, a miracle baby, and three tats.  See the show. He'll explain.
As Do Simple Folk
Echoing the memorable Camelot tune, Tom Arnold reports that he (and, according to him, legendary ex-wife Roseanne) often asked each other, "What do ordinary people do?"
A Tom Arnold story works not only because we are gossip-hungry souls anxious to escape a tiny island. His stories succeed by putting subject and ordinary folk in the same storm-tossed lifeboat. And what his sort of ordinary folk do is, as Tom Arnold explains on Maria Shriver's Architects of Change web site, since "I couldn't show my wife fear openly . . . I excused myself and came downstairs and ate 14 sugar-free fudge popsicles." And then find a way, with wife Ashley, to help support Chernobyl Children International.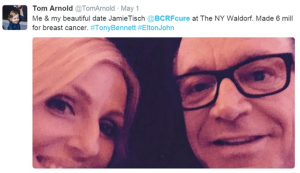 Generous for Jax
Arnold's charity Jax Arnold Kids Helping Kids is helped in no small part by a smashingly cute photo of the much-coveted blue-eyed Jax. But he also sponsors two full scholarships to his former school, Iowa's Indian Hills Junior College and in 1997 helped to construct the Net Center which bears his name at the college. He also sponsored the University of Phoenix First Chance Scholarship program. Just a few days before his Port Washington appearance, he was at a Manhattan fundraiser for the Breast Cancer Research Foundation (@BCRFcure)
As a photo accompanying this report shows, Arnold arranged the evening so that he could man the Landmark T-shirt table himself, autographing shirts and engaging with perfect strangers as if he wanted to get to know each of them.
Jeffrey James Opener
Comedian Jeffrey James opened the show.  In a brief time getting to know the Landmark audience, James persuaded them of his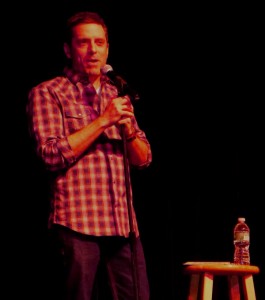 complementary cred, making fun of folly (inner city polo teams), life as a non-Jew married to a Jewess, and the literality of Biblical stories. Hear the one where a 99-year-old Abraham was required to circumcise himself, and then the rest of his bountiful household with a flint rock?
Landmark's Next
Next Landmark on Main Street features the return of Megan Hilty on May 16.
Image Credits: DarkViolin
Landmark Season Sponsors