Share |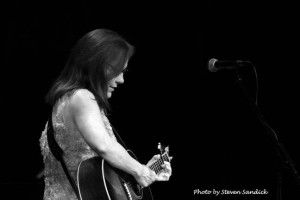 She's "Country / gospel," pronounced one reviewer. Genre. It's a genteel word for an invisible barrier that, for example, keeps most African Americans from attending Rush concerts. But genre is more than simple taste or cultural experience. People can grow up becoming accustomed to eating one type of food, but later develop a taste for French, Italian or Chinese. It simply happens less with musical taste. Go figure.
While artists can flourish within these invisible lines, audiences with other genre preferences never hear a note or think about a lyric in distant genres. Perhaps because of this, despite accolades from Emmylou Harris, Merle Haggard and performances with legendary John Prine, Iris DeMent is not as widely known as her voice and songwriting deserve.
There was no such recognition problem with the Landmark's audience last Saturday evening. It was a large audience, but unlike some that have gathered at the Port Washington venue, they were more expectant than playful, more contemplative than restless.
When DeMent sang "Let the Mystery Be," elsewhere performed as a duet by David Byrne and Natalie Merchant, DeMent crooned that "Everybody is wondering' what and where they all came from . . ." but DeMent seems quite certain of her place – whatever label is given to the genre.
Sing the Delta (2012) is DeMent's latest release, which she is distributing on her own label. She sang several songs from the album during the evening.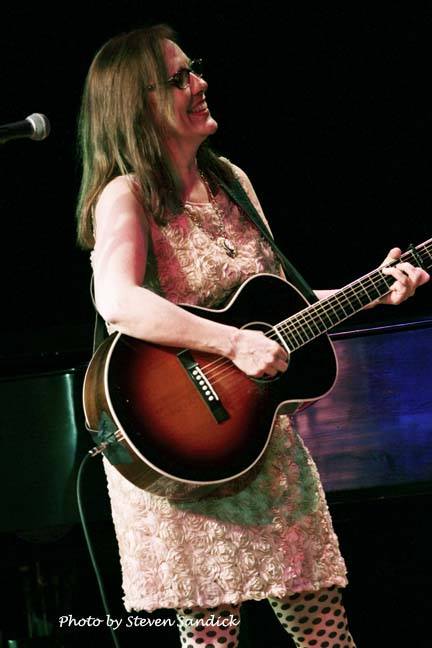 DeMent sings with a practiced reverence. Whether she learned this from making the concessions needed in a large family (she's the youngest of 14), or countless obedient hours in Arkansas Pentecostal pews is unclear. But in songs like the one she confessed had been written in a motel room after she had cancelled a concert because of a sudden panic attack, they have a disarming purity. It leaves an audience vulnerable to her arrows of conscience, despair and longing.
Supporting DeMent on guitar and mandolin was Jon Graboff, who for most of the evening favored a hollow body steel string guitar rather than the steel pedal he's known for. His mandolin playing was just as capable. Graboff is a veteran accompanist who's performed with well-lit names (Willie Nelson, Joan Osborne, Ben E. King, Norah Jones – the list goes on). This wasn't a night for fast licks, but for meaningful improvisation, and Graboff was up to the task. Applause for his occasional solos was well-deserved.
Tasteful and polite on drums was Bryan Owings, whose past credits include an Emmylou Harris collaboration. Owings also plied his trade at steel string guitar repair at the beginning of the show when the strap post on DeMent's guitar refused to stay put.
The genre leap would have been impossible without the two of them.
The meaning of DeMent's lyrics tends to stray far from stereotypical country songs, even when the song form and her voice, at times so Tammy Wynette, retraced those boundary lines. She went from "Mama Was Always Tellin' Her Truth" to "When My Morning Comes Around," which she performed on piano with very listenable accompaniment by Graboff on guitar:
When my mornin' comes around, I will look back on this valley
at these sidewalks and alleys where I lingered for so long
and this place where I now live will burn to ash and cinder
like some ghost I won't remember.
If these small turns of phrase didn't serve notice that DeMent aims beyond one genre's stereotypes, a planned 15-song collaboration with the late Russian poet Anna Akhmatova might. From this project she performed her adaptation of Akhmakova's "As a White Stone . . ." (1916).
Like a white stone deep in a draw-well lying,
As hard and clear, a memory lies in me.
I cannot strive nor have I heart for striving:
It is such pain and yet such ecstasy.
DeMent must find a way to finish this song cycle one day.
Elsewhere during the performance she gave tribute to Martin Luther King Jr., recalling that his modest Montgomery church was situated across from the state house at which the Confederate flag still flew. In one of her songs she quotes from his I Have a Dream speech at the 1963 March on Washington, "We will not be satisfied until 'justice rolls down like waters, and righteousness like a mighty stream.'"
In "Making My Way Back Home" from Sing the Delta, a theme DeMent revisited several times throughout the evening, she sang:
I wore pretty dresses and teased my hair
Sang my heart out in those songs
Good or bad, I done my best.
Done good, Ms. DeMent.
The genre may signal a plaintive idiom, but "there's a whole lotta heaven shinin' in [her] river of tears."
_____
First published on Patch.com
Follow DarkViolin |