Share |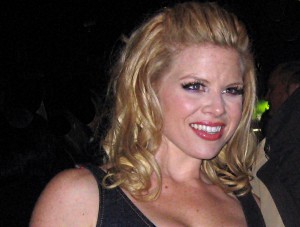 It used to be called "the little screen," but in the era of 60" flat screens, it's a lot bigger than it used to be. Yet even as screens have gotten bigger, bandwidth has gotten broader and TV's reach — according to many pundits — has gotten smaller. But as the Landmark's 2012-2013 season drew to a close last Saturday evening, TV's reach into the suburbs was unstoppable. Megan Hilty, looking every bit the "Ivy Lynn" blonde bombshell character she owned on TV's Smash, took the stage amid enthusiastic cheers from a sellout and thoroughly infatuated crowd.
It was a sparse stage dressed only in piano and guitar with a couple of mic stands, but when Hilty emerged wearing a glittering blouse and confidently took one of the mics to sing "They Just Keep Moving the Line" from the TV show, the audience seemed to fill in additional instrumentation and additional Smash members cast invisibly around her.
In fact the cheering began before she sang a single note.
For this show, piano duties were ably carried by Matt Cusson, who also sang on several songs. Hilty later brought boyfriend Brian Gallagher to help out with the ever-popular "Suddenly Seymour" from Little Shop of Horrors.  (Gallagher remained to help out on guitar and vocals on several other numbers as well). Little Shop was to have been Hilty's first role after college, but instead she went on to perform in Wicked as Glinda.
In her 2012 City Center role as Lorelei Lee in "Gentlemen Prefer Blondes," Hilty impressed NY Times reviewer Ben Brantley, who dubbed her interpretation "robust, ambitious and single-minded," "very much of this world, inhabited by that potent and uncompromising life force. . ." So it surprised no one in the Landmark house when Hilty launched into a convincing rendition of "Diamonds are a Girl's Best Friend" that brought the witty Styne – Robin lyrics front and center:
And I think affairs

That you must keep liaisonic

Are better bets

If little pets get big baguettes.
Hilty stepped out of her gleeful persona only few times, as when she showed a more introspective side with her cover of the Don Henley song "The Heart of the Matter." But soon it was back to "the broken keys and missing strings" of "Secondhand White Baby Grand," and Hilty had returned to the Smash repertoire.
One of the more well-known graduates of the CMU Theatre program, a school better known for churning out engineers, the strength of Hilty's voice partly reflects a period when she was considering a career in opera. This was clear when she tackled "Alto's Lament," complete with note-accurate coverage of alto parts to tunes from Sound of Music, Oklahoma! and other notoriously secondary roles. She switched between the song's main melody and these alto quotes with a nonchalant ease.
More typically her talent was put to a somewhat different purpose, as illustrated with "Bye Bye Baby" from Gentlemen Prefer Blondes, and an acrobatic version of the Sinatra tune "The Best is yet to Come," in which she reprised her recent Carnegie Hall debut with the New York Pops.
Megan Hilty's first album It Happens All the Time recently became available through Sony Music. She told the audience it was "all about falling out of love."
When she and her supporting duo closed the show with "Rainbow Connection" from The Muppet Movie, it was clear that this audience was still very much in love.
Follow DarkViolin |